BIO-Europe Spring 2016 is starting off right away with the plenary opening session. The conference was about partnering, trends and opinion from both Biotechs and Pharma…
This was the list of pretty impressive speakers: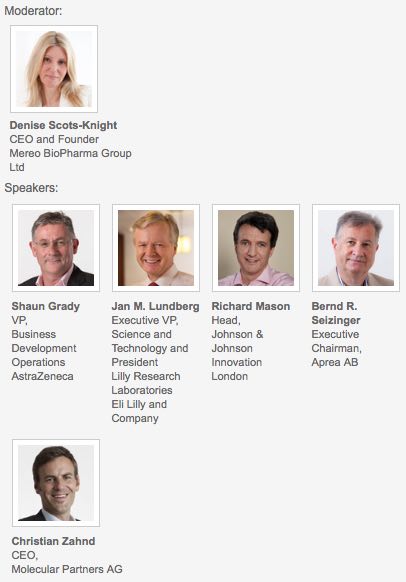 How are Big Pharma positioning themselves in 2016?
J&J clearly wants to open up more to the outside of the organisation, having founded several structures across the World, including J&J Innovation, JLabs and JLinks. The organisation is supposedly 'really simple', according to Richard Mason, but to me their infrastructure seems pretty difficult to grasp to me.
On the other hand, AstraZeneca has a strategy of being as close as possible to the top scientific hubs. That's why it relocated its headquarters to Cambridge (UK) and why it has office in Gothenburg (next to Chalmers University) and in Gaithersburg in the US, next to the NIH.
On the other hand, Eli Lilly can seem bit more closed from the outside, although Jan Lundberg argued it's not. It is used to partnering since the rise of the Biotech industry – and he says to think like Genentech and human insulin synthesized in Bacteria. Eli Lily is the only Big Pharma with labs in the center of Manhattan, where the research against cancer is 'outstanding'.
Lundenburg finisheed with a small attack of its rival there: "Pfizer claims to be in Manhattan but it's just their headquarters not its research labs".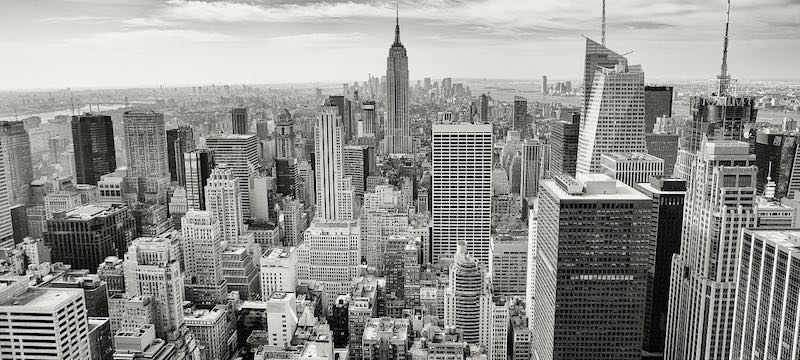 Now, how are Biotechs perceiving 2016?
Aprea is a Biotech from Sweden we recently covered which raised the biggest Swedish financing round ever – €46M. The moderator wondered why it has no pipeline on its website yet. Bernd Seizinger answered they are still in early pre-clinical trials, but the first results show extremely promising results and could be 'game-changing'. This small molecule targets p53, a protein involved in over 50% of cancers.
Aprea's CEO is a veteran of the industry and believes that being only European is not the right strategy for a Biotech. That's why he raised money from US investors, and why he develops the leadership team there.
The reasons? The financing is way easier when you are there, you have access to a bigger talent pool and you have a facilitated way for an exit. Seizinger also believes he will most likely be sold to a US company.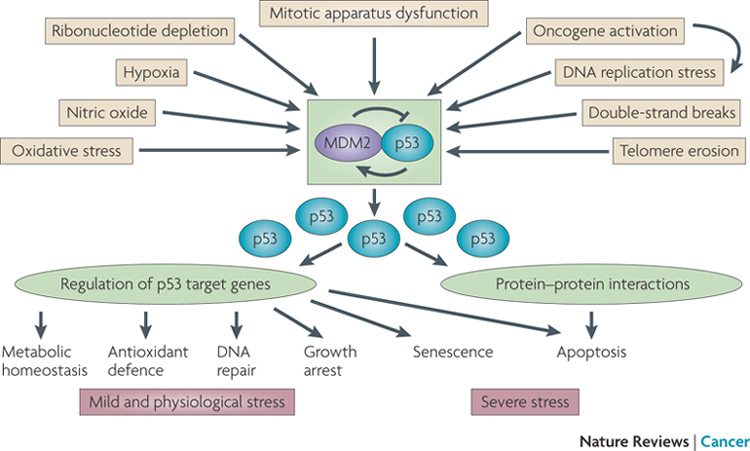 The second Biotech on the panel was Molecular Partners from Switzerland. It is developing bi-specific molecules, similar to antibodies, and has a pipeline based on its technology platform.
Christian Zahnd thinks partnering is way easier in this situation, as a Big Pharma partnership doesn't necessarily give away too many of your assets (they can generate new leads from the platform instead of having only one molecule in the pipe).
On the matter of  the US discussion, and told why they stayed in Switzerland. "Of course, there is more financing in the US, but it made more sense for us to build a domestic champion in Switzerland rather than being one of the 100 Biotechs on the NASDAQ".
He does agree on the talent pool side though. The pool is much deeper in the US and as they are always trying to hire the best people, it's not 'rare' that they have to relocate people to Switzerland (so they can enjoy the mountains).

How full are pipelines in 2016?
AstraZeneca has one of its major drugs' patent expiring in next May. The drug, called Crestor, is an anti-statin with over $5Bn yearly sales in the US only (the 4th most-sold drug in the US). This will increase generic competition and decrease revenues.
So, this British-Swedish Big Pharma expects to level out the loss of revenues by 2017, thanks to a strong pipeline, which has been 'refilled' since the CEO Pascal Soriot headed the company and moved the focus towards R&D and partnering with Biotechs.
Eli Lilly has had a major patent expiration period 6 years ago. It's now better and the pipeline is in 'way better shape', and it also had some good Phase III results recently.
J&J seemed overconfident: 'We have one of the strongest pipeline in the industry'. The company expect to launch over 10 drugs with billion-dollar potential by 2019…
This opening keynote gives a good taste of what the feeling in the industry is and what to expect from 2016. Pharma are always more willing to open up (to fill their sometimes emptier pipeline), whereas Biotechs needs the funding to develop new therapies, whether it comes from Europe or the US.
---
Feature Image Credit: Bio Spring 2016 Keynote (CC 3.0 Labiotech)
Figure 1: Nature Publishing Group – Levine, A. J. & Oren, M. (2009) The first 30 years of p53: growing ever more complex. Nature Reviews Cancer 9, 749-758.