Things are looking good for German Biotechs! At least, this is what the general mood at the international congress organized by the IZB on July 16th and 17th 2015 in Martinsried, near Munich, reflected. A bunch of international investors and decision makers gathered to show that the sector is picking up momentum again in Germany!
The Innovation and Startup Center for Biotechnology (IZB) on the Martinsried Campus, organized a two-day congress with top-ranking Venture capitalists, influential politicians and successful CEOs from biotech companies like Morphosys or Evotec.
A sign of the upward trend, Venture capitalists, like TVM, whose last investment in Germany goes back to 2009, are once more showing targeted commitment.
"In the next few weeks we will announce an investment in Munich that will be around 22 million Euro", said Hubert Birner from TVM Capital.
The money stems from their newly closed fund in 2014. Altogether a total volume of nearly 250 million dollars is available, part of which will now flow towards Europe. According to Birner, the goal is to acquire yet more money that will be explicitly set aside for German investments. As Birner announced, further financing with TVM's participation in Munich and Switzerland are on the agenda of this fall!
Patrick Bäuerle also reported on new financing options for German biotech enterprises. The former CSO of the Munich-based antibody specialist Micromet – acquired by Amgen for 1.16 billion Euro in 2012 – moved three months ago to the US early-stage investor MPM Capital, located in Cambridge and San Francisco.
"We are actively involved in the initial spinoff phase from the academic environment and we assume direct management responsibilities for the financial entry", he explained at the IZB event.
From the perspective of MPM Capital, this is the most efficient strategy to get a startup idea to a targeted exit. In his first three months at MPM, he has already launched two US biotech companies. MPM, therefore, seeks to take on the initial management of its portfolio companies itself. Bäuerle finally send an invitation to the audience: "you have the idea, we will build up your company!". A total of 400 million dollars are available in current funds at MPM Capital.
Simon Moroney, from the successful Biotech company Morphosys, continued with a comparison between Germany and the USA:
"Here 400 million dollars were invested in the biotech sector, in the USA it was 40 billion dollars, 100-fold more".

As a hint, Florian Hahn, Member of the German  Parliament added, "In the USA, we feel a strong political will. In contrast, here there is an urgent need for action". 
For IZB's CEO Peter Hanns Zobel three things stand for success: "the heads, the location, and the capital". And on this point, Martinsried's campus is a good example with its 12 000 people working here, its impressive location gathering high-standing research institutes and several generations of successful biotech companies, and a strong financial support of €43 million invested to develop the campus as a European Biotech hotspot.
"In order to create top medications and the best therapies, tax benefits must also be created in Germany", said Zobel casting a glance at politics.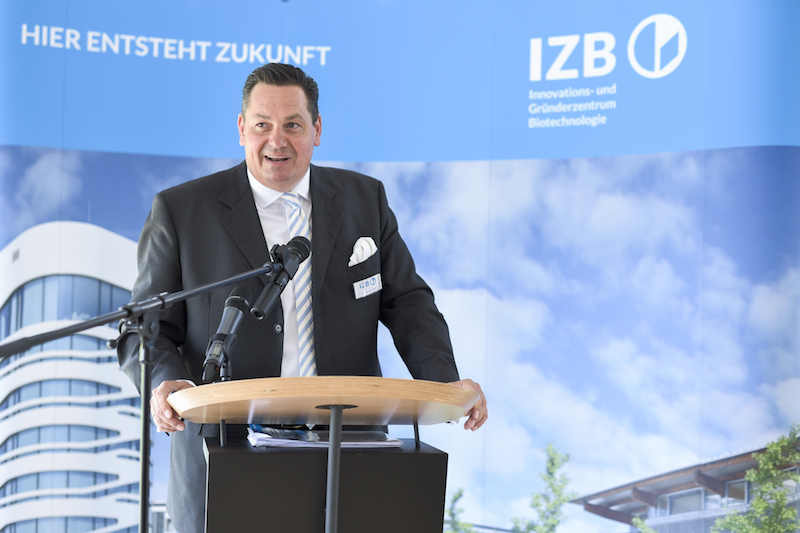 On this point, Germany is definitely grasping the nettle! Stefan Höfer, Vice President of the German Stock Exchange in Frankfurt put it this way: "With our newly launched German Stock Exchange Venture Network Program we are creating a new culture in financing – in a protected area, online and offline."
Amongst the other initiative, the German Accelerator Program is sending, as of this fall, the first 18 life sciences companies from Germany to Boston. This program initiated by the Federal Ministry of Economics and has been running for three years to help the IT sector. Now, it is also being developed for life sciences!
Also involved in this program is Johannes Frühauf from Cambridge Biolabs, who supports incubator spaces in Boston. "We will contribute our network", said Frühauf when talking about the German program. There are currently plans to also raise such incubators in Germany. Munich, Berlin or Leipzig are relevant locations for this, according to Frühauf. That's definitely great news for the German biotech ecosystem, which still lags behind when it comes to funding Biotech startups.