Biotech companies are constantly trying to reach consumers online, competing to grab a few minutes of their attention. Native Advertising is opening new opportunities for biotech companies to advertise online.
Most of the marketing budgets are moving online. While display ads (banners) were the golden standard for a long time, this practice is rapidly changing. After all, banners are basically a transposition of the print ads to an online-based platform. As the web continues to evolve, new ways of advertising appear. Native advertising is one of them.
What is Native Advertising?
Native advertising is a form of marketing where the ad experience follows the natural form and function of the user experience in which it is placed. As for the traditional display advertising, there are different kinds of native advertising, such as in-feed ads, promoted lists, content recommendation, etc.
In the case of a news website, the native advertisement is often an in-feed content sponsored by a company. In other words, an article sponsored by a company interested in promoting their brand on a media platform.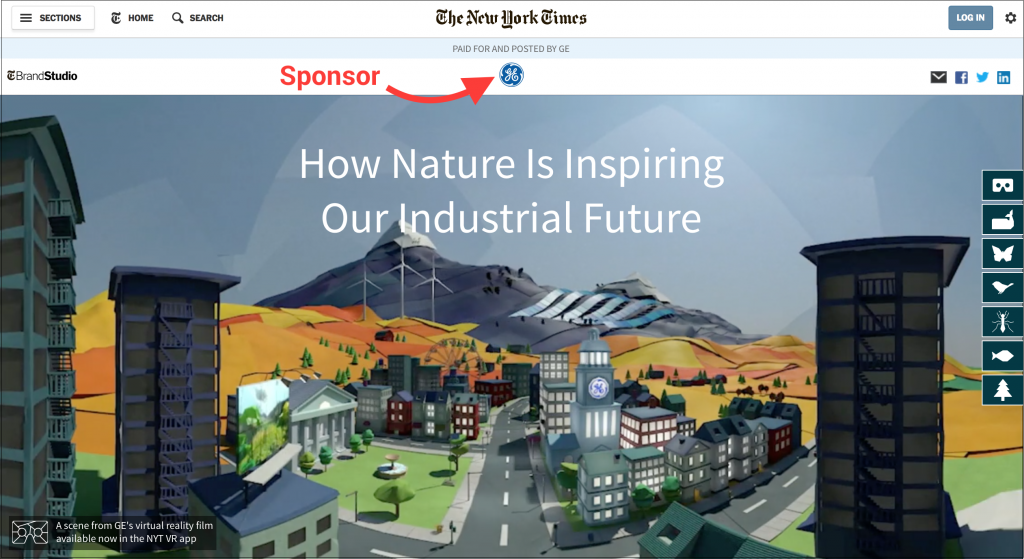 Native Advertising is here to stay!
According to a recent study by the Interactive Advertising Bureau (IAB), native advertising is already well accepted by the consumers. From the advertisers' point of view, native advertising is becoming a real asset to their marketing and should develop even faster in the coming years.
---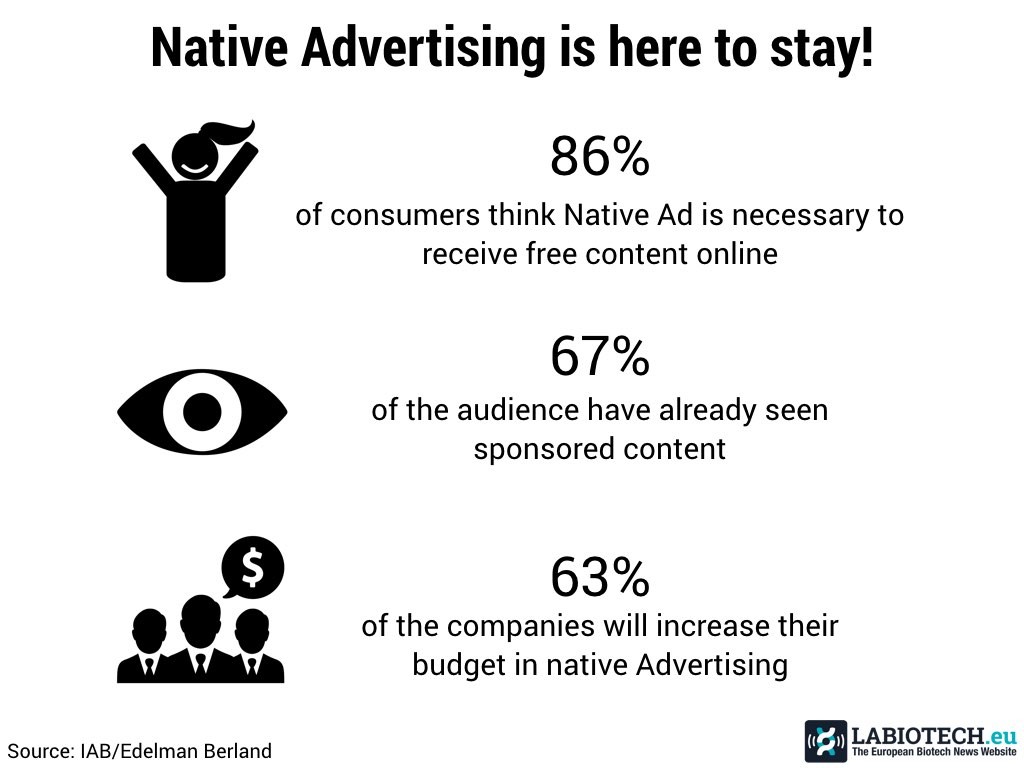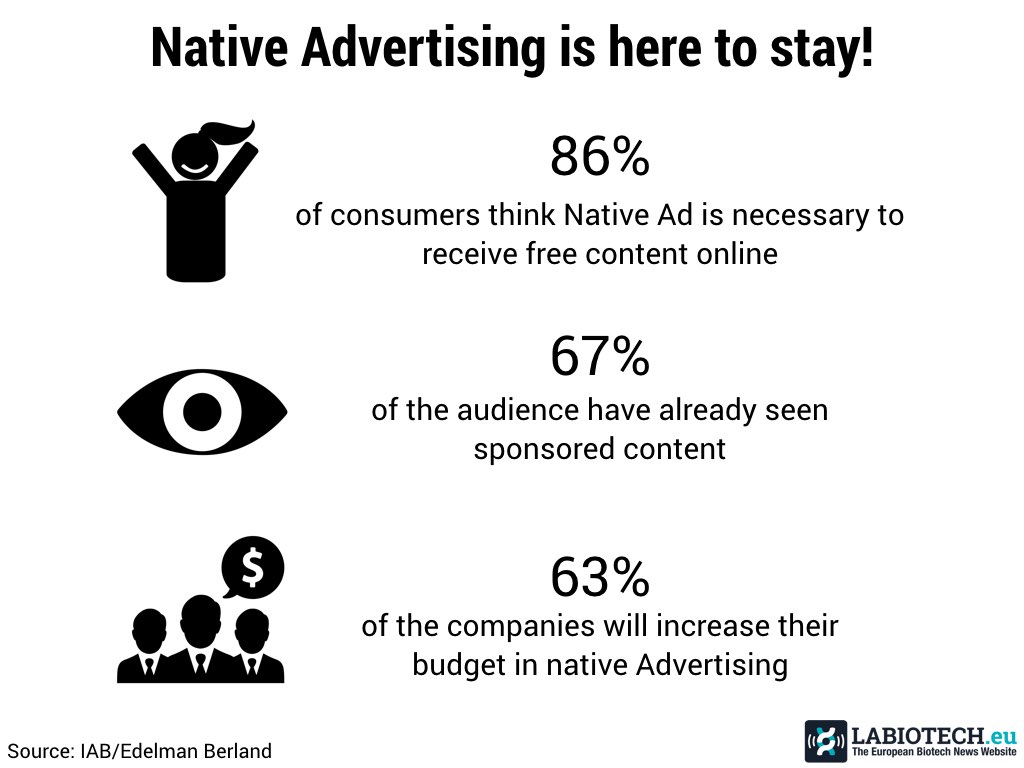 ---
Why should you go native?
Native advertising is not only a new trend. It's a smarter way to brand your company. And it works!
According to another study (Sharethrough/IPG Media labs), consumers looked 53% more often at native ads than display ads. Consumers were also more likely to share a native advertising.
The same study also showed that native advertising is an excellent way to increase the affinity of the consumer with your brand!
---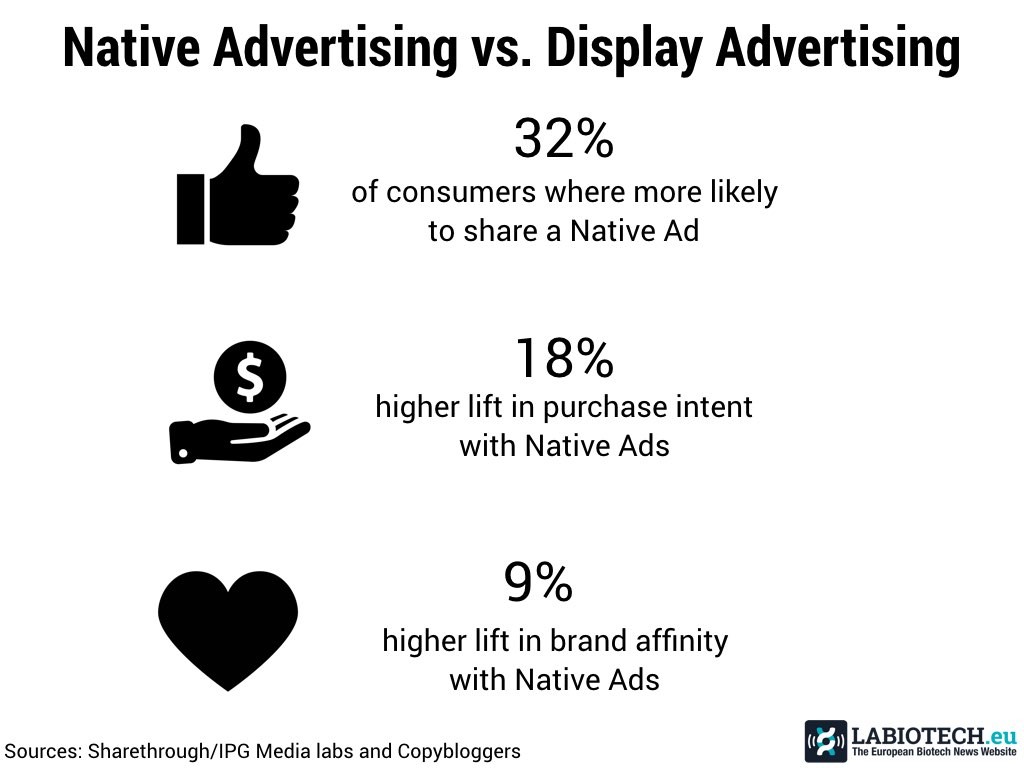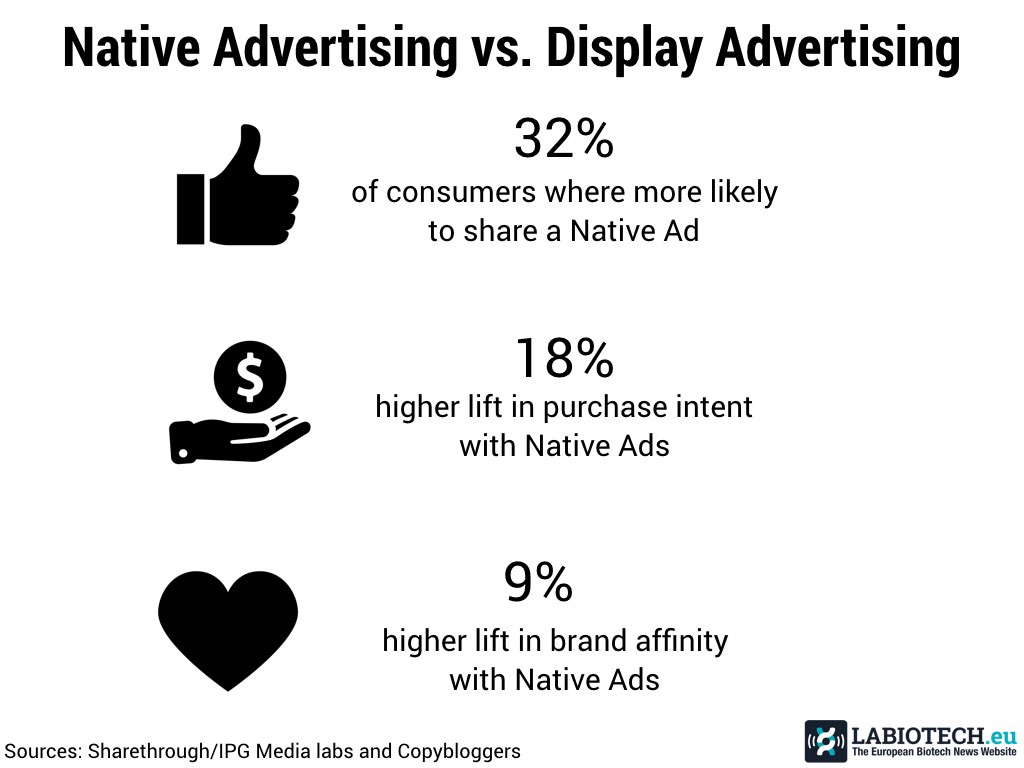 ---
What about Native advertising in Biotech?
Already 75% of publishers are running native ads. In the Biotech industry, a lot of publishers have already started their native advertising offer as well.
The main limit to adoption seems to be the lack of information in the marketing teams (that's also why I'm writing this post).  Many Biotech companies are still using exclusively display advertising, and a lot of them still allocate most of their budget to print or offline marketing.
Online is more fitted than offline for native advertising. 85% of the companies are restricting their native ad campaigns to the digital sphere.
At Labiotech.eu, we think that native advertising is a good way to provide advertisers with a smart solution without harming our users' experience. A sponsored article, for example, will provide relevant information to our users while increasing the visibility of the advertiser. A real win-win situation.
Early in our development, we started offering native advertising options to companies willing to experience this new trend. You may have seen some of this content on our website (labeled "Sponsored").
How to start with native advertising?
There is no secret, just try it! The easiest is to start with sponsored content. Reach out to a trusted publisher that offers this kind of opportunity. Some publishers will also write the content for you taking the stress of writing articles out of your hand.
That's what we do at Labiotech.eu. We have science writers to create your content (sponsored article or white paper) and a dedicated campaign manager to promote it on our platform. Each campaign comes with a predefined goal that we reach in 100% of our campaigns.
Native advertising is a great opportunity to share value with online readers. Don't miss this opportunity to make your company stand out from the crowd.