Today is the World Blood Cancer Day, an event to show solidarity to patients and raise awareness for the need of better therapies to treat these cancers – which are still often deadly.
Blood cancers can affect different type of cells in the blood. Because these cells are so close to the circulatory and immune system, they are often related – and hard to treat.
This wide group includes different indications, according to the cells involved.
Lymphomas affect lymph cells. Historically, they have been divided in Hodgkin's lymphoma (characterized by the presence of abnormal Reed-Sternberg cells) and non-Hodgkin's lymphoma (which has many subtypes).

Leukemia is cancer of blood-forming cells. It can be either chronic or acute, and develop in the bone marrow cells that go on to become white blood cells (lymphocytic leukemias) or red blood cells (myelogenous leukemias).
Finally, if the cancer is in plasma cells (a type of white blood cell that produces antibodies), it's a myeloma.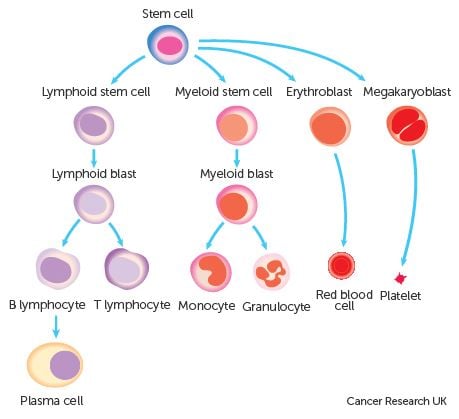 Two of these blood cancers are particularly deadly: leukemia kills 265,000 people every year, with non-Hodgkin's lymphoma following behind with 199,000 deaths.
So which European Biotechs are working to fight blood cancers?
There's much work being done in the field. Myeloma seems to have a champion in MOR202, an anti-CD38 antibody developed by MorphoSys that has shown promising results in Phase II trial. CD38 is also a preferred target for Janssen and Genmab – a 'common interest' that is ending up in court.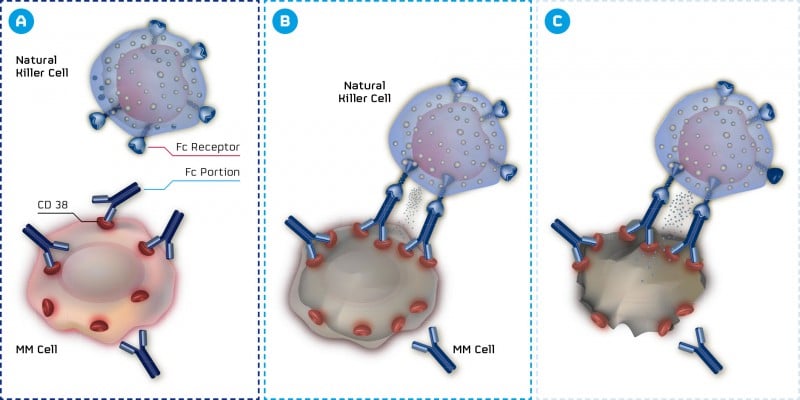 London-based startup Kesios has raised €27M to develop its first candidate, based on a new target within the NF-κB pathway. Its primary target is also myeloma.
MorphoSys is developing MOR208, an anti-CD19 in Phase II trials for relapsed or refractory non-Hodgkin's lymphoma – additionally being investigated for chronic lymphocytic leukemia (CLL) and acute lymphoblastic leukemia (ALL).
Dutch Kiadis Pharma is betting on acute leukemia (both myeloid and lymphoblastic), with a strategy to solve the challenges of allogeneic hematopoietic stem cell transplantation. Transplantation is the best option for leukemia treatment, but often with dangerous side effects. Its candidate ATIR101 is in a Phase II trial.

Tackling the life-threatening graft-versus-host disease (GVHD) of patients with donor-derived blood stem cells transplantations is also the strategy of Xenikos, another Dutch Biotech. Its T-Guard technology could be a tool to reset the body's immune system, and is now in Phase I/II trials.
From Heidelberg (Germany), Affimed is developing AFM13, a TandAb that recruits NK-cells. It is currently in Phase IIa trial for relapsed/refractory Hodgkin's Lymphoma.
As for non-Hodgkin's lymphoma, Onxeo (France) has had some very good results with its pan-Histone deacetylase inhibitor. Nordic Nanovector (Norway) is developing an antibody-radio conjugate – and did a €68.9M IPO last year.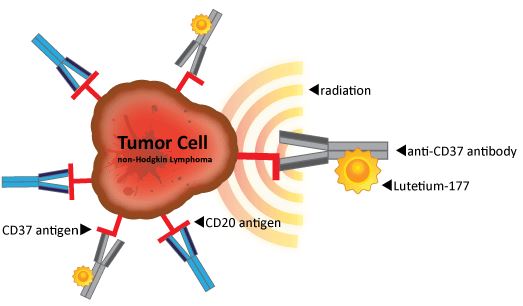 What about CAR-T?
A mix between cell therapy, gene therapy, and immuno-oncology, CAR-T has been dubbed a near-miraculous cancer cure.
However, the CEO of Cellectis is more cautious and warns that these therapies will not cure all cancers. A major challenge is to apply CAR-T in solid tumors, as the engineered T-cells just can't penetrate and act inside the tumor.
But for aggressive liquid cancers, CAR-T already boasts results like 93% remission in children relapsed/refractory acute lymphoblastic leukemia (ALL) in a Phase II from Novartis, plus the two babies already treated with Cellectis' universal cell therapy (UCART19).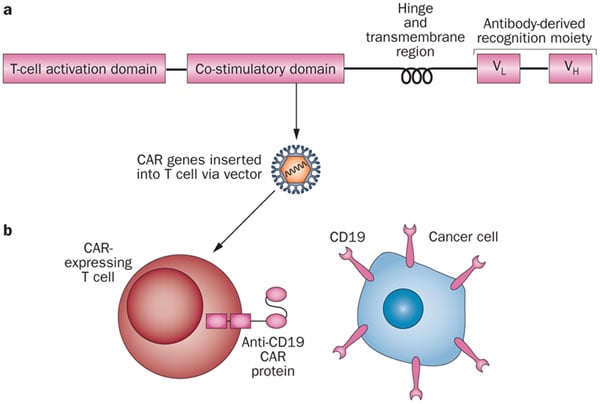 Even if it will be a long journey before CAR-T gets to market and solves its current challenges (such as price), this technology will most likely change the future of blood cancer treatments.
All in all, European Biotech is pursuing many solutions to tackle blood cancers, at different stages of development. So hopefully there will be some good news in stock for all these diseases. 
---
Feature Image Credit: Red Blood Cells © KTS Design (BigStock ID81484793)
Figure 1 Credit: Kochenderfer and Rosenberg (2013) Treating B-cell cancer with T cells expressing anti-CD19 chimeric antigen receptors. Nature Reviews Clinical Oncology (doi: 10.1038/nrclinonc.2013.46)
---