Boehringer Ingelheim submitted idarucizumab for approval of marketing authorization to the European Medicines Agency (EMA), U.S. Food and Drug Administration (FDA) and Health Canada. The submission is directed to patients who require rapid reversal of the anticoagulant effect of dabigatran, the active ingredient in Boehringer Ingelheim's Pradaxa.
Pradaxa, a direct thrombin inhibitor (DTI), was the first widely approved drug in a new generation of direct oral anticoagulants, available to target a high unmet medical need in the prevention and treatment of acute and chronic thromboembolic diseases. However, specific antidotes are not yet available for these agents to manage life-threatening bleeding or when emergency surgery is necessary. Idarucizumab is a specific antibody fragment which binds dabigatran with high affinity and thereby prevents dabigatran's inhibition of thrombin.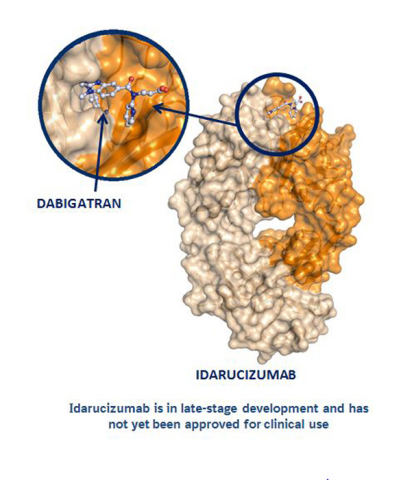 Professor Jörg Kreuzer, Vice President of Medicine Therapeutic Area Cardiovascular, Boehringer Ingelheim, stated: "The submissions for idarucizumab mark the first regulatory submissions for a specific reversal agent to a novel oral anticoagulant. Our discovery and development of idarucizumab in-house is an example of our company's dedication to the evolution and innovation of anticoagulation care. Idarucizumab is being developed to provide physicians with a specifically targeted reversal agent for Pradaxa patients in rare emergency situations."
Idarucizumab was granted Breakthrough Therapy Designation by the U.S. FDA. Boehringer Ingelheim pursues accelerated procedures with all three regulatory authorities.
The submissions to the EMA, FDA and Health Canada are based on the results from clinical trials of idarucizumab in volunteers, including elderly and renally impaired individuals. Phase I data showed an immediate, complete and sustained reversal of the anticoagulant effect of dabigatran following the administration of idarucizumab and no pro-thrombotic effect. The submissions also include first interim data from the ongoing RE-VERSE ADTM study. RE-VERSE ADTM is an ongoing global Phase III patient study in which Boehringer Ingelheim continues to evaluate idarucizumab in patients treated with Pradaxa who are in need of emergency intervention, or experience an uncontrolled or life-threatening bleeding event.
With idarucizumab' submission, Boehringer Ingelheim is one step ahead its principal competitor, Portola Pharmaceuticals, who is also interested in anticoagulants' antidotes. Portola just announced successful results from ANNEXA-R's Phase III and expects to submit the drug for FDA authorization by the end of 2015.