All patients in a clinical trial run by the Belgian company Bone Therapeutics have seen an improvement in the healing of bone fractures that have had problems healing.
Six months after receiving a single dose of the cell therapy developed by Bone Therapeutics, all 21 patients in the Phase I/IIa clinical trial met the primary endpoint of showing regeneration in their bone fractures, which had failed to heal normally in a period of at least 3 months. The therapy also reduced pain at the fracture site by 61% on average.
After a fracture, bone is usually able to regenerate itself, but in some cases bones can fail to heal in a normal time frame. In this case, the standard procedure is a bone graft, which generally requires a surgical procedure to harvest pieces of bone from the patient and implant them in the fracture site.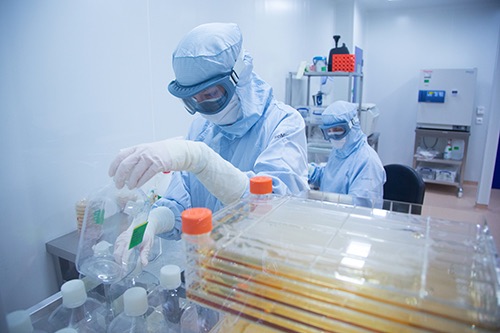 Bone Therapeutics aims to get around the surgery by using a cell therapy derived from bone marrow cells of healthy donors, which is injected directly to the fracture site. This same therapy is being tested in spinal fusion, a procedure to treat several conditions that cause the degeneration of the spinal cord, with the goal of improving the outcomes of the surgery.
The next step for the company will be to submit a clinical trial application to start a Phase IIb trial, expected in the second half of 2019.
Bone Therapeutics has also announced that, for this and all upcoming trials, it will be using an improved manufacturing method that can generate thousands of doses of the therapy from a single bone marrow donation. Along with other improvements, the company expects this will reduce the production cost and make the therapy more affordable and accessible to patients once it is commercialized. 
Most companies working in the regeneration of bone tissue focus on biomaterial implants that can serve as a scaffold for the patient's own cells to regrow the lost tissue. Sourcing cells from donors often raises concerns of safety due to a possible rejection of the foreign tissue, but Bone Therapeutics has reported the therapy to prove safe so far, which could give it an advantage of a ready-to-use and more affordable therapy.
---
Images via Shutterstock; Bone Therapeutics