Bone Therapeutics (Belgium) is almost finished with the phase IIa trial for a Spinal cell therapy. The 12 people treated for degenerative bone conditions show no complications – a gold star for the safety check of this off-the-shelf product.

This Belgian biotech is developing two different osteoblastic cell therapies, PREOB and ALLOB, to treat a variety of bone-related health issues, like severe osteoporosis, hip osteocronosis and degenerative disc disease (DDD).
PREOB therapy requires the patient's bone marrow cells to be extracted, in order to be grown outside the body and then used in the treatment itself (hence autologous).
In comparison, ALLOB can be used right away, as it is already prepared from the bone marrow cells of healthy volunteer donors. This makes it an off-the-shelf tissue engineering product – which is a significant advantage.
However, being treated with other people's cells could potentially lead to adverse immune effects, so it's natural that the trials for PREOB are more advanced than those for ALLOB.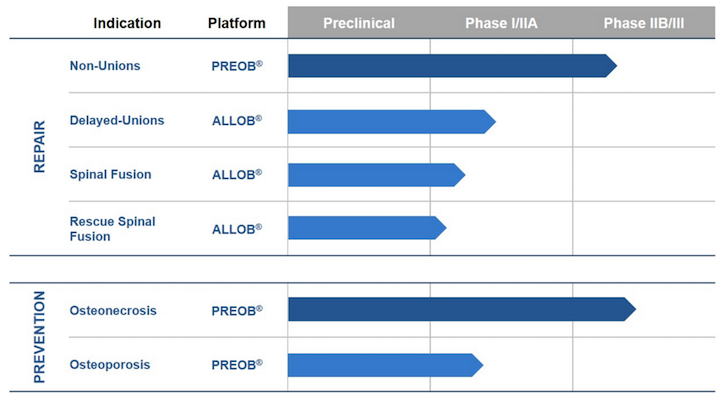 Bone Therapeutics is now in the last stages of its phase IIa trial of ALLOB for DDD. This disease can cause pain in the lower back region, and spinal fusion surgery is required for a part of the patients.
However, even if this surgery is the current best practise available, it still fails in 30% of cases (with no fusion of the spine).
The trial aims to evaluate the safety of supplementing ALLOB cells in combination with a biosceramic substrate from French Kasios (which the cells can adhere to). This takes place in Kasios'  3D-bioprinted cage, which is implanted during surgery.

The treated patients, of which there were 12, were monitored for one year after undergoing ALLOB therapy and their surgery, and have shown no complications.
So far, Bone Therapeutics is getting good results from its clinical trials (2 phase III and 3 phase II). It has also recently received a €5M from the Belgian funding body in the Wallonia Region for its pre-clinical research.
The company will have its clinical project manager, Wendy Sonnet, present the results of its first patient at the Clinical Applications of Stem Cells conference in Singapore next week. The feedback from the medical community will therefore be worth keeping an eye on.
So will it continue to be smooth sailing for this Belgian Biotech?
---
Feature Image Credit: Pelvic X-ray © Photosampler (BigStock ID75819733)