A CAR-T program in Phase II trials (from Juno Therapeutics) was suspended by the FDA after 3 deaths, which could be treatment-related. How will this impact the field, given that most CAR-T Biotechs share the same target?
UPDATE (article originally published on 8/7/2016): the FDA has allowed Juno Therapeutics to resume its CAR-T trial with JCAR015, the Biotech's leading candidate. At the same time, the number of patient deaths may actually be 4. What does this mean for the company and CAR-T? See the end of the article for more details.
As a personalised medicine technology, CAR-T is one of the main developments in the field of blood cancers. The near-miraculous treatment boasted impressive remission rates in relapsed/refractory patients. The French biotech Cellectis' therapy even 'saved' two terminally-ill babies – before the start of any trial.
Of course, the possibility of some serious adverse effects (such as cytokine storms) were not a minor issue and CAR-T companies were already researching ways to get around it (such as a therapy 'off-switch'). But with such great results, it felt a bit like the big obstacle would rather be CAR-T manufacturing and logistics, including the price of autologous therapies.
Now, recent news is bringing back concerns for CAR-T adverse effects. After 3 deaths of enrolled patients, the FDA is suspending one of the advanced programs – Juno Therapeutics' Phase II trial (ROCKET). This trial studied the effect of its candidate JCAR015 in adult patients with relapsed/refractory B-cell acute lymphoblastic leukemia (ALL).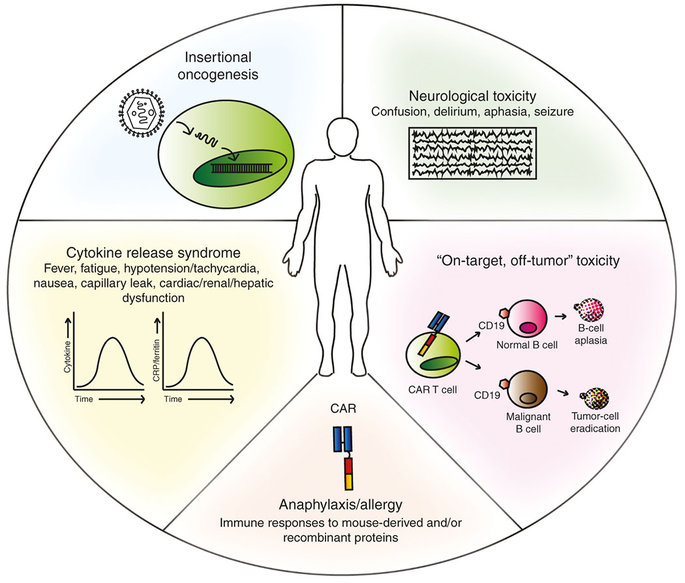 All the 3 deaths were caused by cerebral edema (build up of fluid in the brain). Juno stated that the edema may be due to a very rapid expansion of the cells, which was only seen in specific conditions. The 3 patients were also taking fludarabine (a chemotherapy agent) as part of their treatment (the preconditioning regimen).
Juno seems confident the problem will be solved by excluding this agent from treatment, and instead rely on another chemotherapy compound (cyclophosphamide) alone. It could take little over a month for the trial to restart.
However, some experts doubt this explanation. Fludarabine is a common chemotherapy agent and has been used in CAR-T trials before (with no link to cerebral edema), as pointed out by Sally Church in Biotech Strategy Blog.

Instead, this adverse effect could be a warning sign for the safety of CAR-T itself – or even just the CD19 target. CD19 is a 'hallmark' antigen for B-cells, so anti-CD19 therapies can effectively target only this type of cells.
A problem with targeting CD19 would really spell trouble for the whole CAR-T field, as it's the most popular strategy. As Juno's stock falls by almost 30% with this JCAR015 hiccup, it's counting on its other candidate (JCAR017) being on track.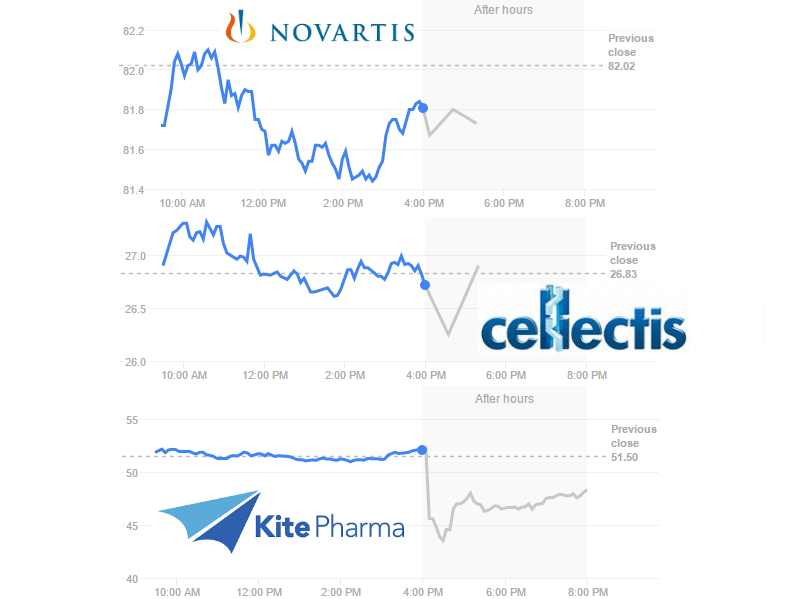 But JCAR017 is also a CD19 therapy…
The same goes for other players in CAR-T. Novartis' CTL019, which already has results from its Phase II trial, targets CD19. So do all the clinical candidates of Kite Pharma (US) and Cellectis' UCART19, which recently started its Phase I trial.
Investors are having mixed reactions to the news. Novartis stock price is falling at the moment but within its normal variation. The same goes for Cellectis, which is completely CAR-T focused. However, on the other side of the Atlantic, Kite Pharma took a 16% dive and hasn't fully recuperated yet…
All in all, this could be a major setback for the CAR-T. As it happened with gene therapy in 1999, the death of patients can really scare off investors and make a therapeutic area a no-go zone.
---
UPDATE CONTINUED (18/7/2016):
On July 12th, Juno Therapeutics announced that the FDA is removing its clinical hold on the Phase II clinical trial of JCAR015. Under the revised protocol, the ROCKET trial will continue enrollment using JCAR015 with cyclophosphamide pre-conditioning only.
Given this speedy restart, JCAR015 still has a shot at filing for market approval in the next year, as Juno Therapeutics had previously planned. 
Such a quick decision suggests the FDA is still confident in the potential of CAR-T and targeting CD19. This is obviously quite good news for the field and for Juno Therapeutics. Following this news, the Biotech's stock went up to $34.80. However, it has now gone back to $29.21, which amounts to a 28% loss since the original news.

The nervousness of investors may also be connected with information about a 4th death, which was highlighted on the SEC Filing of 13th of July. This case occurred in a young adult patient with refractory/relapsed ALL who received flu/cy preconditioning in the JCAR014 trial. The death had already been disclosed in 2015, but it's now being connected to the other 3 deaths during the JCAR015 trial, given the similar cause of death (cerebral edema).
---
Feature Image Credit: Pixabay
Figure 1 Credit: Bonifant et al. (2016) Toxicity and management in CAR T-cell therapy. Molecular Therapy — Oncolytics (doi: 10.1038/mto.2016.11)
---