So it begins…dubbed the 'Miracle Cure' for Blood Cancer, UCART19 is now set to begin its journey to Human trials in the UK.

Just 2 days before Christmas, the French billion euro Biotech, Cellectis, submitted a clinical trial application to the Medicines & Healthcare products Regulatory Agency (MHRA). Specifically, the request was to approve initiation of the First-in-Human clinical investigation for UCART19 in leukemia.
The candidate in question, UCART19, is a universal CAR-T therapy which has a particular T-cell receptor engineered to target Acute Lymphoblastic leukemia (ALL) and Chronic Lymphocytic leukemia (CLL). You can read more about CAR-T therapy for cancers in our December review..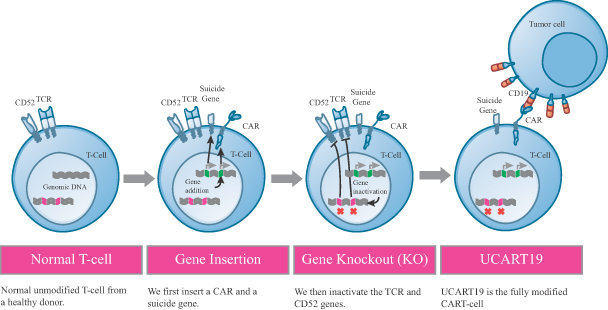 We also recently met André Choulika, CEO of Cellectis for an interview on the progress of this 'Miracle cure' for Leukemia (so labelled by the press). However, on UCART19 he was keen to refute the hype surrounding the latest application in the UK, which saved a baby girl with terminal ALL a couple of months back:
It will bring something really great to Haematology field, but is not a cure for Cancer. It's more of a long-haul race in the right direction as opposed to fast results, and we expect great things perhaps 20 years down the line as opposed to 2016."
Despite this statement (clearly to try and ground some of the press-hype prior to clinical trials – a long and arduous process for any treatment) this news is still welcome to many in the Biotech and Pharma community.
Back in November, Servier (who 'saved Cellectis from bankruptcy' a year back) exercised its worldwide option to license UCART19, and entered into a global development and commercialization collaboration with the pharma Giant Pfizer (based in NY) on UCART19.
We therefore await approval from the MHRA and further guidelines for the enrollment process soon, with an optimistic (but realistic) outlook on the future of UCART19.
---
Feature Image Credit: Leukemia Research Program (Source: Ohio State Comprehensive Cancer Centre)