CAR-T is solidifying in everybody's mind as the next revolution in Cancer treatment. But there is still a lot to do…That's basically what came out from my discussion with André Choulika, the CEO of the French CAR-T miracle Cellectis.

Cellectis is probably the most successful Biotech in France. It was founded in 1999 by Choulika himself (not alone though), following the discovery of meganucleases ability to change gene editing. Today, Cellectis is a well-known Biotech company counting over 100 employees end of October and having a market cap north of 1 Billion euros.
The company is now focused on the development of allogenic CAR-T (from generic donors  – i.e. not from the patient themself). With these universal CAR-T candidates (UCARTs). Cellectis has signed a massive partnership with the French pharma Servier, as well as Pfizer (which owns 8% of Cellectis), and has just announced two big milestones for the company within the last few weeks.
It is now able to produce it's allogenic CAR-T in a GMP settings and it releases results from the "miracle" treatment of a 11-month old girl from the UK with multi-resistant leukemia.


---
Let's start directly with the latest news…People seemed over-enthusiastic about UCART19…even the New York Times wrote about it. What do you think?
It's a great news for Cellectis even though it's still a very early result, in a single patient only. What's important for us is that the first human patient received our treatment without showing any adverse effects (such as no cytokinetic storm) and our CAR-T cells were still active in the body 3 months after the injections.
Now, we have to expand the clinical trials to several patients and showing data from a cohort of patients. We are now on track to file the clinical trial application by the end of the year.

Your approach in the CAR-T is pretty unique. You are using donor's cells to treat many different patients, whereas most CAR-T approaches are autologous (i.e. engineered the patient's own cells).  Is the future in CAR-T the allogenic approach alone?
When we started to move into the CAR-T field we were pretty reluctant because there are not many examples of commercial success in the field yet. But CAR-T has still attracted many big players such as Novartis, Celgene, Juno or Kite. These each have a strong involvement in making autologous therapies work commercially (Celgene especially, which makes most of its revenue from groundbreaking and pricey cancer drugs).
On our side, we want to make this therapy accessible to a larger population and have good market access at the end. We have already pretty good reason to think it could work out well for us. We'll see though…
Comment: Reuters published a report a few weeks ago estimating the cost of autologous CAR-T could be above $450K per treatment, which would make it economically not realistic for the healthcare payers.
CAR-T seems to be extremely hype right now. At BIO-Europe 2015, I had the impression everybody was talking about CAR-T. Do you think it could have the same impact as monoclonal antibodies?
What's interesting with CAR-T is that you can target cells which expresses less receptors (10k receptors instead of 100k for monoclonal antibodies). This increases the targets for CAR-T and the possibilities linked.
But there are also downsides. Tissues with low expressions can become targets too and CAR-T cells would start attacking healthy cells.
People should not overemphasise CAR-T. We are still at the beginning of the beginning of this technology. And it will probably have to be combined with surgery or checkpoint inhibitors.


You seem pessimistic about CAR-T…?
I am just trying to be more realistic, even though I am super positive about the technology. It will bring something really great to Haematology field, but is not a cure for Cancer. It's more of a long-haul race in the right direction as opposed to fast results, and we expect great things perhaps 20 years down the line as opposed to 2016.
But yes, it will probably not be the miracle product some people are talking about.
As for every early technology, there are many challenges associated with its development. What are the main ones worth discussing?
I would say you have four main challenges…
The administration of the cells will be challenging. We have to find way of injecting repeated doses of the product (to ensure the therapy is fully effective seeing as CAR-T cells have a limited lifespan). This is difficult because of immunogenicty against the therapy.
Secondly, combination will play an essential role too and checkpoint inhibitors should be involved.
The last two are linked to the targets.
As I mentioned before, CAR-T can be too sensitive and one way to control that would be to induce "logic gates" where the cells would only act if a combination of receptors would be present. The last challenge is to find other antigens.
Most of the CAR-T cells today target the same antigen: CD19+. We should find new antigens and many companies are on the track, including us.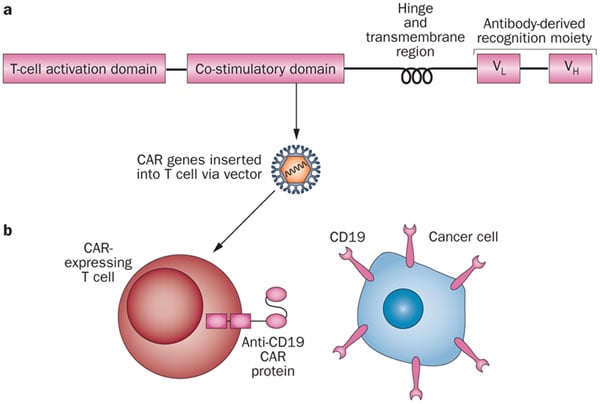 ---
It was so great to be able to talk to Choulika about this growing and game-changing field. He clearly showed that the technology could change the world of cancer treatments, yet at the same time many challenges have yet to be overcome.
P.S. I was so flattered when André told me "Of course I know Labiotech.eu, you are doing really good job"
Cover picture credit: D. Morganti for Cellectis