ERRATUM: I published a first article on Celyad's new patent on last Tuesday where I made an error of judgement. Celyad's US patent covers allogeneic CAR-T modified to reduce immunogenicity. In my previous article, I wrote that Celyad stated having obtained the first US patent on CAR-T, which is wrong. 
Last Tuesday, Celyad announced having received the "First US Patent Covering Allogeneic Chimeric Antigen Receptor T Cells ("CAR-T") Modified to Reduce Immunogenicity".
The patent is specific to TCR-deficient allogeneic (not from the donor) CAR-T cells and covers applications in the US. As the CEO Christian Homsy stated : "To our knowledge, this is the very first patent covering TCR-deficient CAR T-Cells."
Patents covering CAR-T are really important for Biotech companies working in this field as this new kind of treatment is considered to be the next generation of cancer therapies. Other companies also have different patents on CAR-T.
The biggest one of them, the Seattle-based Juno Therapeutics (the company raised $579M, $314M from VCs and $265M in an IPO) already had some issues with its patents. I found the 10-K report of the company (the annual report of any american company published by the SEC). I let you read the paragraph on the IP below: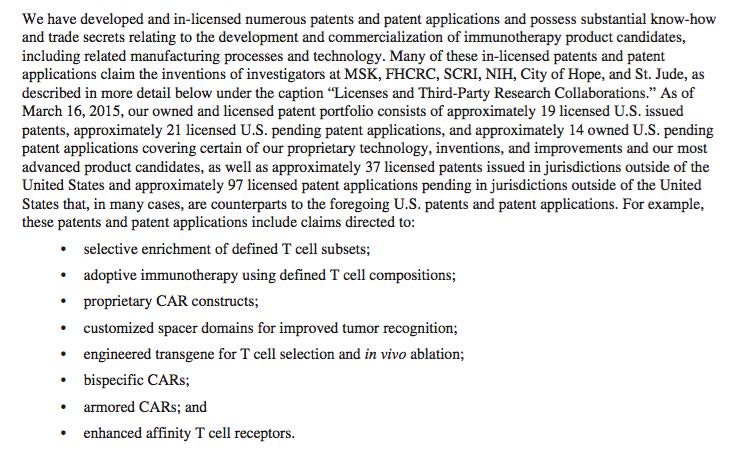 Juno Therapeutics has a solid intellectual property with 19 approved patents it licensed in and 100 patents pending worldwide.
I also discovered that Juno Therapeutics attacked Novartis and UPenn (which showed recently very promising Phase 2 results using CAR-T) for patent infringment. This was in January 2014, as Philly.com relates.
In April 2015, FierceBiotech reported that Novartis and Juno decided to settle their patent fight. "Under the settlement, Novartis and its partner, the University of Pennsylvania, will hand over $12.25 million to Juno and St. Jude Children's Research Hospital, plus future milestone payments and a mid-single-digit royalty on U.S. sales of CAR-T products affected by the lawsuit. Juno and St. Jude are also due a low double-digit percentage of the royalties Novartis has promised Penn."
Juno actually won the trial against the huge Pharma giant that is Novartis. Important to note, Juno Therapeutics is using a different type of CAR-T cells (autologous, from the donor) and not an allogeneic type like Celyad. This fact only shows the strategic importance of patents in the CAR-T area.
This new patent from Celyad could be important in the future in the US. It's interesting to see how Celyad pivoted from stem-cell cardiology therapies (back then named Cardio3 Biosciences) to CAR-T. This new patent will fortify their position as a major actor of the CAR-T industry.