For any drug developer or service provider, cell line development is one of the most challenging phases, especially when subsequent GMP compliance is required. The need to secure good cell lines can, therefore, make all the difference in getting any biological to the market.
The Swiss company Celonic has produced CHOvolution™, a cell line kit that allows you to develop your own mammalian cell lines with an integrated support system to help.
The CHOvolution™ is built on a highly robust and efficient technology that not only adds economic value to your project early on but assures the development success from discovery to market.
---
Why use cell lines?
Mammalian cells provide a great advantage for the R&D stage of a therapeutic antibody's development due to the similarity of the cells to human cells (e.g. folding, glycosylation etc). For example, CHO-K1-based cell lines, derived from the ovarian cells of the Chinese hamster, have become a standard for the production of therapeutic proteins.
These are usually cultured using Bovine (cow) serum, but the medium has become less desirable since the recent outbreak of BSE, commonly known as mad cow disease. In light of this, Celonic has spent the last 17 years gaining an extensive understanding of the development of expression vectors, cell lines, and media. The result? Its proprietary SEFEX (Serum Free Expression) platform.
Based on experience, Celonic, therefore, provides a very attractive alternative with their CHO-K1 host cell line, which is adapted for suspension culture and growth in serum and protein-free chemically defined media. This feature ensures regulatory compliance in numerous customer projects entering clinical development phases.
Celonic's CHOvolution™ kit also provides you with an optimised vector set (plasmids), and all the information you need for the cultivation and handling of the technology to establish production cell lines for monoclonal antibody products.
---
The challenge? To create robust, scalable and high titre production CHO cell lines
Celonic has designed a CHO cell line which is particularly robust and highly scalable, from the use of a 10L shake flask to over 1000L fermentation bioreactors.
Celonic's CHO cell line has already achieved an extremely high product titer of more than 7g/L for a monoclonal antibody. This means significant savings in manufacturing investment and substantial cost-of-goods eduction on the final product.
CHOvolution™ can be used for a broad range of applications from non-GMP R&D applications to GMP product development leading to commercial market supply. Additionally, these cell lines expedite your time to market because the same cell line can be used for both R&D and GMP production. Furthermore, your project safety will improve due to a higher comparability of material used in non-clinical studies and in clinical trials.
Moreover, CHOvolution™ cell lines are GMP complied and therefore ready to move directly into GMP production. Indeed, Celonic's cell lines for monoclonal antibody and recombinant protein production are already in clinical trials in the EU, US, and Asia.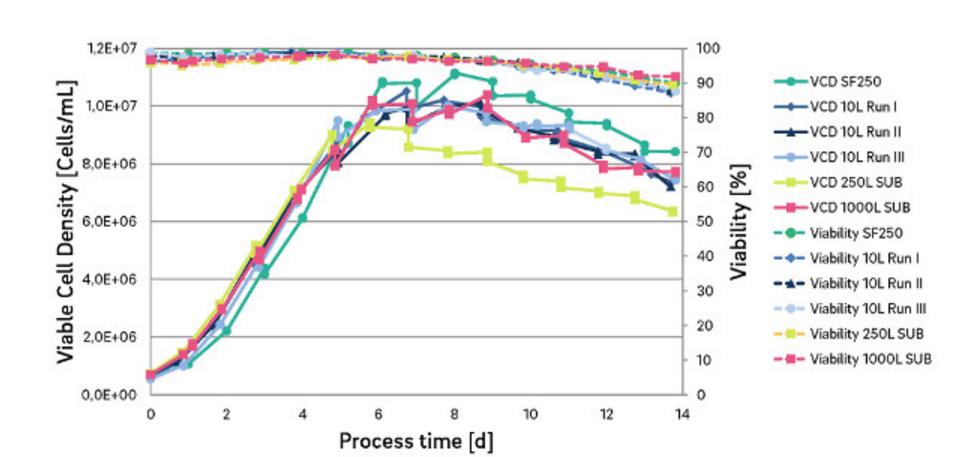 ---
Afraid of the switch to GMP Production?
Well, Celonic also offers unique superior support to help companies integrate the new cell lines. These include customised workshops and training for lab staff, help with filing for IND (Investigational New Drug) applications, comprehensive protocols for the cell line (e.g. Optimised screening and selection protocols) – and they can even do the QMS audit for you! If any additional support is needed for the company's transition to GMP production, a hotline is also available.
Finally, the CHOvolution™ platform is entirely royalty free – the client is freely able to sub-license their developed product later down the development road. This is a simplified and attractive commercial model.
---
A quick tour of the Celonic manufacturing facilities 'Empathy – Excellence and Efficiency'

---
Feature Image Credit: Cell Division © Vjanez (BigStock ID78621629)