The Janssen Human Microbiome Institute, the French National Institute for Agricultural Research (INRA) and Johnson & Johnson Innovation AND Takeda are signing up to collaborate with the Paris biotech Enterome to help accelerate Microbiomics research into Crohn's Disease.
The collaboration is based on initial findings by the INRA showing that some commensal (symbiotic) bacteria elicit anti-inflammatory effects in the human gut. And since then, the Microbiome field has really taken off globally, particularly with the launch of the World first Microbiome fund by Seventure.
Then Novartis jumped on board, swelling the pot to over €160M…and everyone wanted to talk about it, especially given the increasing awareness surrounding the breakthrough application of Microbiomics into other hyped therapeutic fields such as Immuno-Oncology (at the Gustave-Roussy Institute).


There is even an increased focus in Next-Generation Sequencing specialists, such as the US leader in genomics, Illumina, has demonstrated.
Enterome is one such French biotech (established in 2012) which is hot at the moment too, having already raised around €17.5M in VC funding a syndicate which also included Seventure and two strategic investors (Shire & INRA transfert). Now aided by INRA, Enterome is looking to further develop their Microbiome platform for diseases such as Crohn's.
Since this biotech has already identified bacterial strains, genes and products with immuno-modulatory and anti-inflammatory properties using its advanced proprietary 'metagenomics tools and screening technologies', it is not exactly unsurprising others are lining up to work with them too.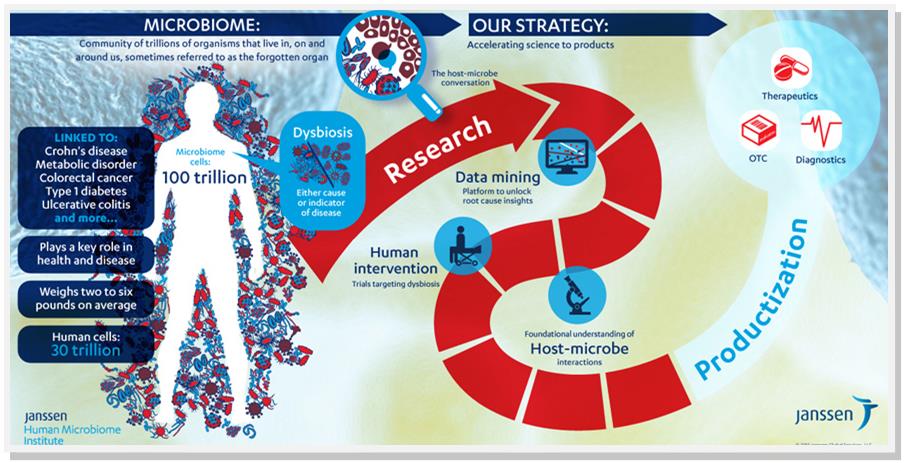 The agreement, facilitated by Johnson & Johnson Innovation, is focused on the discovery of novel targets and bioactive molecules from the gut microbiome for the potential development of therapeutic solutions to Crohn's disease (type of autoimmune inflammatory bowel disease).
The Janssen Human Microbiome Institute (which has anchor research centres in Massachusetts and Beerse in Belgium) has also had successful collaborations with others biotechs researching the field of Microbiota in Inflammatory Bowel Disease.
One such example is Vedanta Biosciences in Boston (US) which is looking to develop a novel class of microbiota targeting therapeutics in the field of mucosal immunology, to generate safe and potent treatments for autoimmune and inflammatory diseases. The institute signed a research deal with them last January for up to $241M (€222M).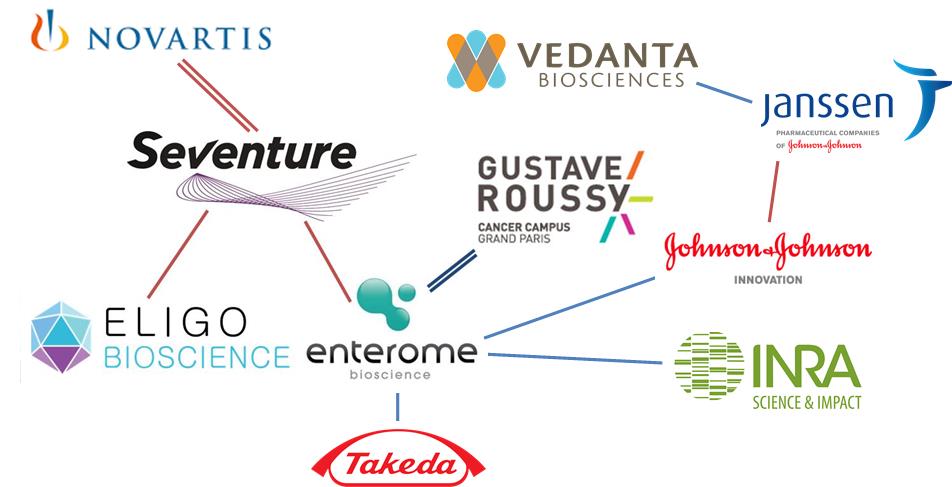 There is also research into how the growth time of Microbiota can impact the prevalence of diseases such as Irritable bowel and type II diabetes by Eran Segal and Eran Elinav's labs at the Weizmann Institute in Israel.
Evidently the community is continuing to strengthen ties, with hot spots in France and Boston being particularly better connected. It will be interesting to see what other connections are born through the Microbiome fund and upcoming Microbiome-focused events to be held this year.
---
How the Microbiome Community is Flourishing through Partnerships in Therapeutic Discovery…
---
Feature Image Credit: European Molecular Biology Laboratory in Heidelberg, Germany