Continental, famous producer of tires, is creating a research facility in Germany to investigate the use of rubber extracted from dandelions. An eventual switch to the material would mean less environmental impact, and maybe even better tires.
The "green pet project" of Continental, a giant automotive manufacturer with almost €40Bn yearly revenues, consists of replacing conventional natural rubber with dandelion rubber. The project is well underway after the launch in 2014 of a premium winter tire using taraxagum, or dandelion rubber, and will now progress to the next phase with a brand-new €35M research facility.
The new Taraxagum Lab Anklam, located in northeast Germany, will scale up the production of dandelion rubber, which so far has only been done in labs. Over the next 5 years, Continental plans to hire over 20 employees and expand the dandelion fields to 800 acres, which could produce the rubber at a scale of tons.
This new material is more environmentally-friendly not because it replaces a synthetic source, which is the case of bioplastics, but rather because unlike the rubber tree, Hevea brasiliensis, dandelions can be cultivated in Europe. This would mean much shorter transportation routes, not to mention the advantage of better control of the supply.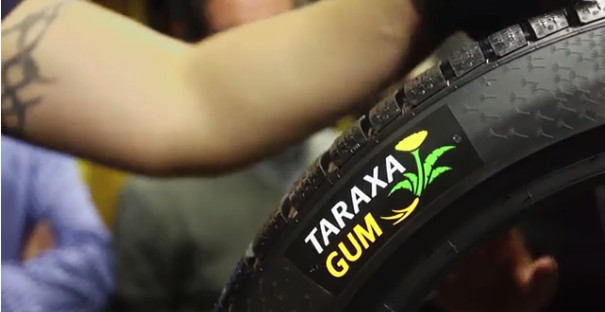 Taraxagum is the result of a collaboration between Continental and several partners, including the Fraunhofer Institute for Molecular Biology and Applied Ecology (IME) and the Julius Kühn Institute, to cultivate a robust and high-yield dandelion breed.
Russian dandelion, the species on which the new breed is based, has an interesting history. It was originally discovered and cultivated in the Soviet Union as a domestic source of rubber, and it was used in Europe and the US too as an emergency rubber source during World War II. With a stabler international trade and bigger yields, rubber trees beat dandelion rubber despite the high quality of the latter. In a trajectory somewhat similar to the use of bacteriophages as antibiotics, dandelion rubber is now back under the European microscope.
While classifying the project as a "major entrepreneurial risk", Continental has reasons to be enthusiastic. Taraxagum project has received three different awards:, from the automotive trade fair Automechanika, the prestigious Joseph Fraunhofer prize for research and the GreenTec Awards. More importantly, perhaps, is that the first taraxagum tires perform really well.
This dandelion rubber definitely looks like a side investment on green projects gone right. Increasingly, big consumer brands are investing in such initiatives, like Adidas and its spider silk sneakers or Lego and its sustainable toys.
---
Images by Seqoya/Shutterstock; Continental