Mereo BioPharma's drug, BCT-197, more than halved the number of hospitalizations of chronic obstructive pulmonary disease patients during a Phase II trial.
Mereo BioPharma develops therapies for patients with rare diseases. Today, it has announced that BCT-197, or acumapimod, improved lung function and reduced the number of hospitalizations for treatment in chronic obstructive pulmonary disease (COPD) patients. One of our top female entrepreneurs, Denise Scots-Knight, co-founded the company in 2015 and it has already grown a market cap of £224M (€254M). In addition, this morning's news has seen Mereo's stock increase by almost 5%.
COPD is characterized by the gradual reduction of airflow. Symptoms include breathing problems, chronic cough and increased mucus production, which can become life-threatening. The condition affected 251 million people in 2016 and caused an estimated 3.17 million deaths in 2015. The prevalence of the disease is expected to rise in the coming years due to increased numbers of people smoking, rising air pollution and an aging population.
Mereo could be onto a winner, with the candidate potentially filling a gap in the market, with no approved medicines targeting acute exacerbations of the disease. Mitogen-activated protein kinase (MAPK) p38 is a key regulator of inflammation, which is upregulated in the lungs of patients during acute exacerbations of COPD. BCT-197, a p38 MAPK inhibitor, is being investigated on the back of positive findings in animal models.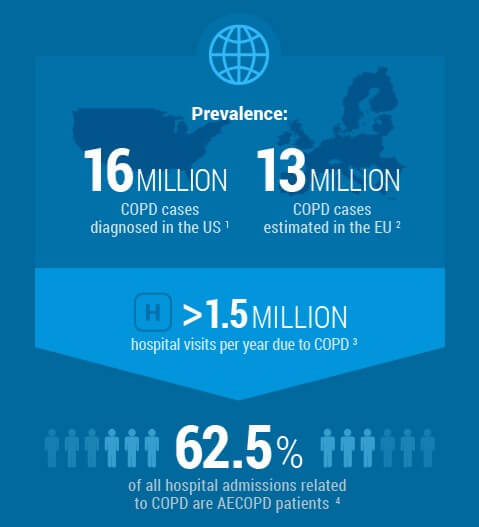 The candidate has so far met the study's primary endpoint by significantly improving lung function, but the difference between the treatment groups and placebo was not significant. BCT-197 met a number of secondary endpoints, including a high-dose of the drug significantly reducing the number of hospitalizations. Importantly, the candidate was able to to do this safely, with no cases of liver damage and any rashes resolved.
With the disease being highly prevalent and very dangerous, many biotechs have taken up the challenge of developing effective treatments. GSK and US pharma company Innoviva have collaborated on a once-a-day triple therapy inhaler, which will soon be available in the US. Verona has also taken the combination therapy approach, putting its own candidate, RPL554, together with Spiriva, a commonly used bronchdilator. One to watch out for is Ethris, which is working on an mRNA therapy for the condition.
Next, we will wait and see if the drug can sustain its effect for the duration of the study. Mereo CEO, Denise Scots-Knight, is particularly pleased with the impact of the drug on patient hospitalizations and outlined the company's plans moving forward:
We are pleased that the trial met its primary endpoint and the drug was well tolerated… However, more pertinent to the unmet clinical need… the study demonstrated an over 50% reduction of rehospitalizations for COPD – a result that was statistically significant and we believe will support the next step of partnering this programme.
---
Images – Charcompix / shutterstock.com; Mereo BioPharma