The problem with CRISPR, is that not many people are actually experts in the field, and there are only a select few who worked on it pre-2013. So how did this UK Startup make a big name for itself in field of the 'Biotech Breakthrough of the Century'?
Desktop Genetics is a startup founded in 2012 by three young researchers from Cambridge who were frustrated by the way the field managed gene editing experiments. Today they are building an AI to assist researchers and clinicians using CRISPR in cells, and eventually, human patients.
Here one of the founders, Edward Perello, talked us through the need for services like Desktop Genetic's in this increasingly relevant Big Data field.
---
The company's DESKGEN platform is an online service that researchers can use to design CRISPR gene editing experiments.
The problem is that in Bioinformatics, a massive amount of data is being generated these days. As Edward explained, given that there are thousands of types of cell within the body, there are therefore trillions of calculations a researcher has to perform in response.
It's the ultimate data challenge…last year there were over 3,000 new papers."
The team has already proven that it can move some money, with a €1.87M fundraising through business angels in 2014.  It also caught the eye of US Giant Illumina, which was interested in applying Desktop Genetic's algorithms to NGS for 'CRISPR Cloud Services'.


This is what particularly catches people's attention – a small London based startup bagging a partnership with Illumina. How exactly did that happen? Well, Edward admitted it was more challenging than it first appeared.
Illumina sells sequencing machines and reagents. We know that NGS is essential for performing CRISPR
This is problematic, as there are significant issues with using a reference genome in research, which can create lots of false positives and negatives.
This means extrapolating from this kind of data for a from a patient isn't viable as it isn't safe. And with so many calculations, its impossible for a human to do themselves, paving the way for an AI gene editing assistant.
"…It's essential to have an accurate data model for clinical CRISPR"
Nevertheless, the company recognises that clinical CRISPR is some way off and is currently using the DESKGEN platform to design custom CRISPR libraries for researchers performing functional genomics. Researchers can use these libraries to confirm whether mutations they find in patients are the cause behind certain diseases, making the data more likely to be actionable.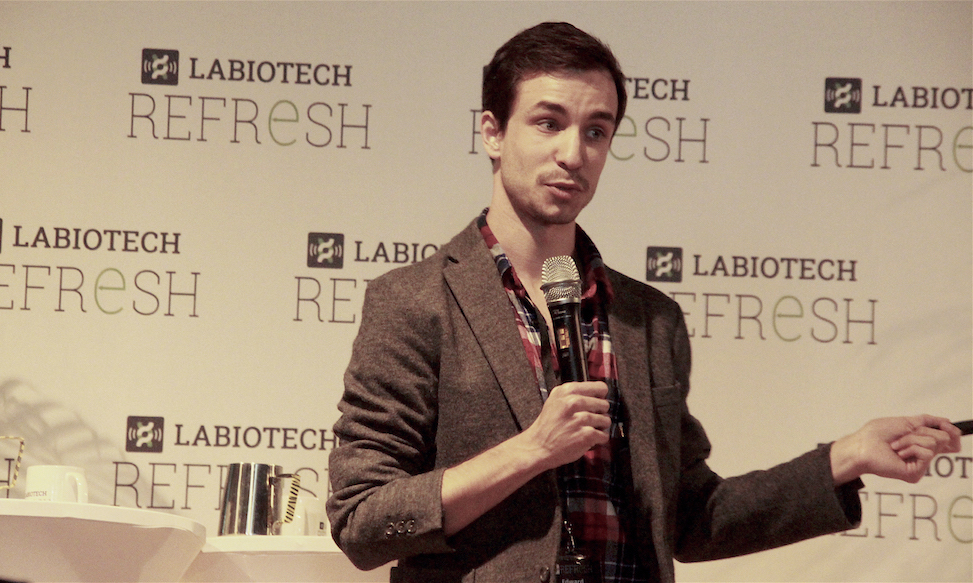 So where is Desktop Genetics headed? Today, they are working on custom CRISPR libraries and the DESKGEN platform, and generating data is improving their AI – which is already capable of surpassing human-designed CRISPR libraries. And by 2020 they are hoping to deploy it against monogenetic diseases in patients.
Then by 2035, the company expects to have taken the fight to more complex genetic diseases and cancers. In February, they also won a €383K grant from Innovate UK for a collaboration project with the Epigenetics Unit (Cancer department) at Imperial College.
We don't expect to be continuing on our own."
With other collaborations also including Editas, Horizon and EnEvolv, Edward's pitch was certainly a Refreshing outline for the CRISPR challenge and the emerging field (we will stop with the Refresh jokes eventually, don't worry).
Keeping tabs on CRISPR in the new is understandably a little overwhelming, particularly seeing as how much the field has developed in just a single year. And we firmly believe it's on track for Nobel history – particularly for its significance to the medical field (read more in a blog by Edward).
For these reasons, it therefore wasn't too surprising the voters at Labiotech Refresh nominated Edward's startup as the winner of the Battle we held. 
---
Feature Image Credit: Edward Perello from Desktop Genetics at the Startup Battle – Labiotech Refresh Berlin, May 24th, 2016 (CC 3.0 –Labiotech.eu)
More images of the conference speakers are available on our Flickr account under a Creative Commons 3.0 License. Feel free to share!
---