Curetis AG, the molecular diagnostics company from the Stuttgart area (Germany), has now announced its launch of an initial public offering (IPO). Previously, this biotech has raised €63.5M to develop its Unyvero Platform for testing infectious disease, including Pneumonia and biomarkers in antibiotic resistance. This new IPO aims to further commercialize this system and expand the global reach of Curetis.


Hospital acquired infections (HAI) result in deaths of up to 99,000 patients per year in the US alone. Therefore, the quest for early detection of such infectious diseases is subject to a refined area of biotech R&D. The Unyvero platform from Curetis uses disposable cartridges to detect Pneumonia (and up to 61 other micro-organisms which cause disease) as well as pick-up biomarkers seen in HAIs.
The IPO will launch shares of its Dutch holding company (Curetis N.V.) on the Euronext market for Brussels (BE) and Amsterdam (NL). This fundraiser aims to further Curetis' international expansion (in the EU, US and Asia) and bulk up their manufacturing capacity. The Unyvero Platform is also currently undergoing a clinical trial designed to win FDA approval for market-release into the US (projected for 2017), which will be further strengthened by this additional financing.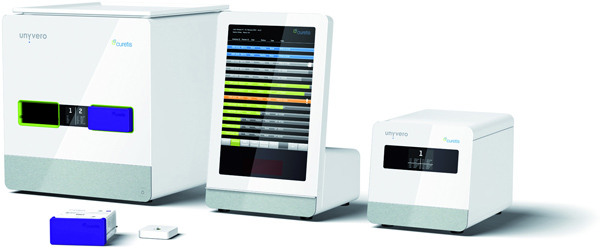 Other competition arises from the the Canadian 'Alena System' from Axela (also a cartridge-based infectious disease and HAI detection kit). The need for an infrastructure-free method of testing for communicable diseases in hospitals is therefore subject of great financial interest.