CureVac has raised an additional €27M ($29.5M) that will help the company keep on its track to be the first one to launch a mRNA therapy, a technology that can revolutionize how drugs are designed. 
CureVac is a German company in the billion-euro biotech club  at the forefront of messenger RNA (mRNA) therapies, a technology that can instruct the body to produce its own drug. The company has just announced a €27M ($29.5M) round from local investors that adds up to a total €325M raised.
Without being actively looking for new funding, the company is now adding extra cash to its last year's €100M funding, which included the Bill & Melinda Gates Foundation. The reason for its success is that CureVac is the most advanced company developing mRNA therapies, being the only one to reach Phase IIb so far. Its leading candidate is a prostate cancer vaccine, while other drugs in the pipeline target non-small cell lung cancer (NSCLC), rabies, HIV and influenza.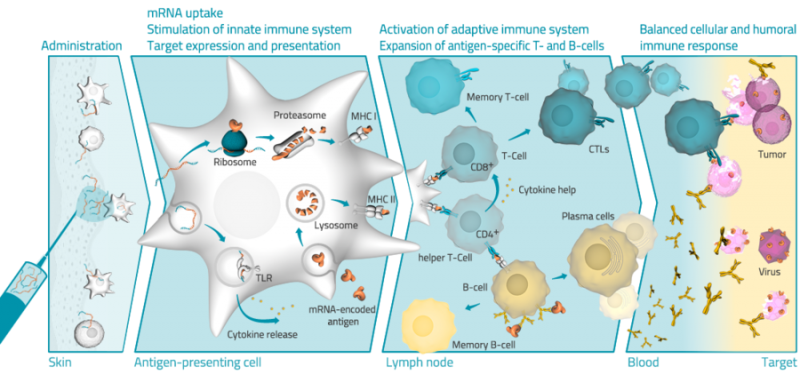 The most promising aspect of CureVac's technology is that it could produce drugs and vaccines faster and cheaper. However, toxicity is still a concern in mRNA therapies, as Ingmar Hoerr, CureVac's CEO, shared with us at Labiotech Refresh. Phase II trials are expected to be completed at the end of the year, which will bring valuable data on how the technology is performing.
The total €325M raised by CureVac, however, is a much lower cipher than that of its US competitor Moderna Therapeutics, which has raised a jaw-dropping €1.75B to date. A second competitor is BioNTech, the largest private biotech in Europe, which recently closed a €280M deal with Genentech to develop mRNA cancer vaccines and is also working in HIV vaccines.
In spite of the big size of its competitors, CureVac is still ahead in R&D as the only mRNA company in Phase IIb. In the words of the CEO: "We are firmly convinced that a medical revolution will take place due to mRNA technology".
Updated on 10/11/2016 to clarify the company was not actively looking for investors
Updated on 14/11/2016 to correct the fund raised by Moderna, which totals €1.75B ($1.9B) and not €1.3B as previously stated
---
Ingmar gave us more info on how CureVacs could lead this revolution during the South Germany Labiotech Tour:
---
Featured image by Juan Gaertner/shutterstock.com
Figure from CureVac
---