CureVac has published proof-of-concept data for an mRNA rabies vaccine that could open the door for a new generation of better and cheaper vaccines. 
CureVac, based in Tübingen, Germany, is a pioneer in the development of therapeutic mRNA technology. The company has published today in The Lancet proof-of-concept data from a Phase I trial testing CV7201, a rabies vaccine made of mRNA. Based on the positive safety and immunogenicity results, the company is now getting ready to start the development of what could be the first of a whole new class of vaccines.
The good news comes not long after the company took a hit when another of its vaccines, for prostate cancer, failed to meet the primary efficacy endpoint in a Phase II trial. Ingmar Hoerr, CEO of CureVac, saw it as an opportunity to improve the technology. "We've learned that formulation and protein engineering are very important, and we can now improve them dramatically," he told me over the phone.
As Hoerr explained, the new version of the vaccine the company is working on includes untranslated regions (UTRs) to increase the stability of the molecule and nanoparticle delivery to protect the RNA molecules from degrading before they're taken up and expressed. "We're now ready to start a clinical study in the first quarter of 2018 and go into product development," says Hoerr. "We believe we can bring the first mRNA product on the market."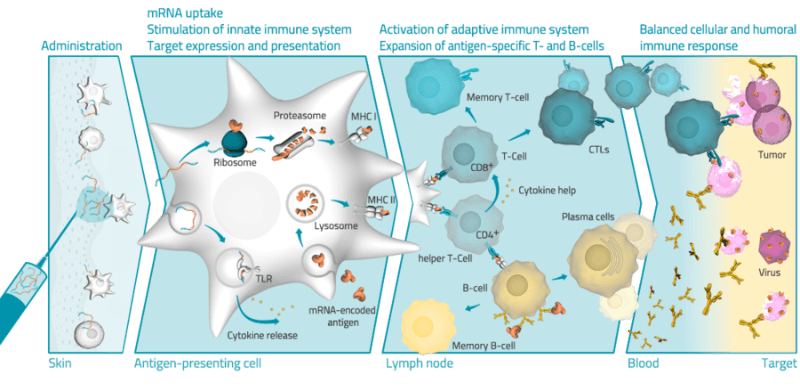 But CureVac is not the only one in this emerging field. Moderna in the US, BioNTech in Germany and eTheRNA in Belgium have also started proof-of-concept trials of mRNA technologies with promising results. However, Ingmar doesn't fully see them as competitors. "I think there's a lot of space for mRNA companies, and I see them as enablers. We need different approaches and different companies that can learn from each other."
Compared to the other mRNA players, CureVac has a distinguishing feature. "They are using chemically-modified RNA and we're using natural RNAs," explains Hoerr. "We think in terms of safety and efficacy, natural elements are better. Competitors will have to prove to regulatory authorities that modified RNA works."
In the infectious disease space, CureVac is working with the Bill and Melinda Gates Foundation, which is interested in taking the technology into several indications, including respiratory syncytial virus (RSV) and rotavirus infections.
In these indications, the technology could have great advantages over conventional vaccines. "RNA is very stable, so you can store it at room temperature," explains Hoerr. The amounts required to vaccinate are also very low, and could be further reduced when the mRNA is encapsulated in lipid nanoparticles. This could take prices down to as low as $1 per shot. "It is possible," says Hoerr. "If we invest effort, time and resources, we will get there. It's just about timing, it's not a technical hurdle anymore."
---
Images via Matthieu Tuffet / Shutterstock; CureVac