DBV Technologies has positive safety data supporting the approval of a treatment for peanut allergy in children, though its efficacy is uncertain.
DBV Technologies saw its stock go down by 45% last month after releasing Phase III data for ViaSkin Peanut, a treatment delivered via a skin patch aimed at reducing peanut allergy in children aged 4 to 11. Although 35% of children did respond to the treatment, the placebo performed better than expected, making the company miss the trial's primary endpoint.
Still, the French biotech was determined to go forward with regulatory discussions for the approval of the therapy, and the news today support its position. A second Phase III trial, called REALISE, has yielded positive results regarding the safety of the treatment administered over a 36-month period in children 4 to 11 years old.
With the results of this second trial available, DBV meets the requirements to complete its application with the FDA to approve the use of ViaSkin Peanut. Consequently, the stock of DBV Technologies was up by 10% on Euronext Paris when it opened this morning.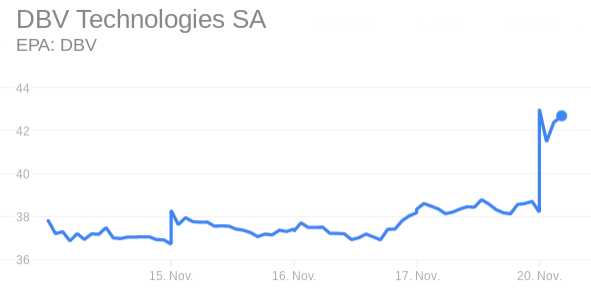 DBV and its investors seem confident that they could get approval despite not having met the efficacy endpoints set for the treatment. But they might not be risking it too much. It wouldn't be the first time the FDA approves a drug without strong evidence of efficacy in favor of bringing a first drug for a condition without treatment. And since the appointment of Scott Gottlieb as Commissioner of the FDA, by US president Trump, the regulatory agency has shifted towards making it easier and faster for drug makers to get approval for their products.
Safety doesn't seem to be a concern in this case, but approving a treatment that hasn't met its efficacy endpoint might be a controversial decision. However, its approval could make a difference for those children that do seem to respond to the treatment, especially given their peanut allergy puts their lives at risk.
Meanwhile, DBV's US competitor Aimmune is expecting Phase III results for its own peanut allergy therapy, being tested in both children and adults, in early 2018. If its results end up being better than those of DBV, it could be a hard blow for the French biotech
---
Images via HandmadePictures /Shutterstock; Yahoo Finance