Deinove has received funding from Bpifrance to work on the discovery of the next generation of antibiotics to fight antibiotic-resistant pathogens. 
The Investments for the Future Program, operated by the French public investment bank Bpifrance, has granted €14.6M to the Antibiotics against Resistant Infectious Germs (AGIR) project, carried out by the Deinove group in collaboration with the Charles Violette Institute (CVI). The funds will be made available in the form of grants and loans spread over the five-year duration of the program, with €10.4M directed to Deinove and €4.2M for the CVI.
The need for new antibiotics is pressing, but the number of candidates in the pipeline worldwide is alarmingly scarce. However, Deinove has a plan that might work where others are struggling. "We dig into a very unusual and targeted biodiversity source," CEO Emmanuel Periot told me. "We collect rare bacterial strains that have been in hostile and stressed environments, in contact with pathogens, where they are more likely to produce antibiotics, and screen for secondary metabolites with relevant antibiotic activity."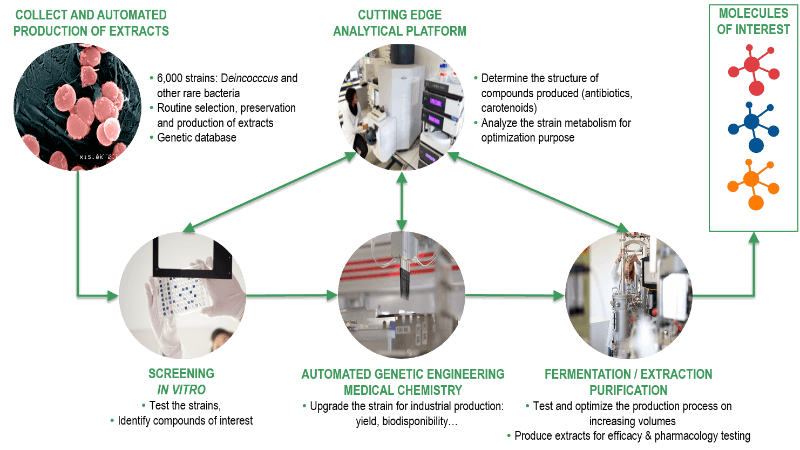 As with penicillin, Petiot thinks serendipity will be essential to the discovery of new compounds, but his strategy is to be prepared to have the best chances to find those compounds and obtain molecules with optimal performance. Deinove has already developed a platform to culture unusual bacteria in unconventional lab conditions, identify antibiotic candidates and perform genetic engineering to optimize their activity. The CVI will contribute with its expertise in identifying the structure of secondary metabolites and their production at a small scale.
With the new funds, Petiot intends to accelerate the whole process by automating the processes to screen thousands of strains, faster and better. The target will be the most dangerous bacterial strains worldwide, the ESKAPE pathogens (Enterococcus, Staphylococcus, Klebsiella, Acinetobacter, Pseudomonas, and Enterobacter species), with a stronger focus on Gram negative bacteria, which are historically more resistant and for which no new antibiotic classes have been approved in the last 40 years.
During the 5 years the project will run, Petiot aims to generate and validate several leads. "Hopefully, we will be in the position to enter a few preclinical phases, and possibly Phase I," he says. After that, he expects to strike a deal with big pharma to help bring the candidates to commercialization.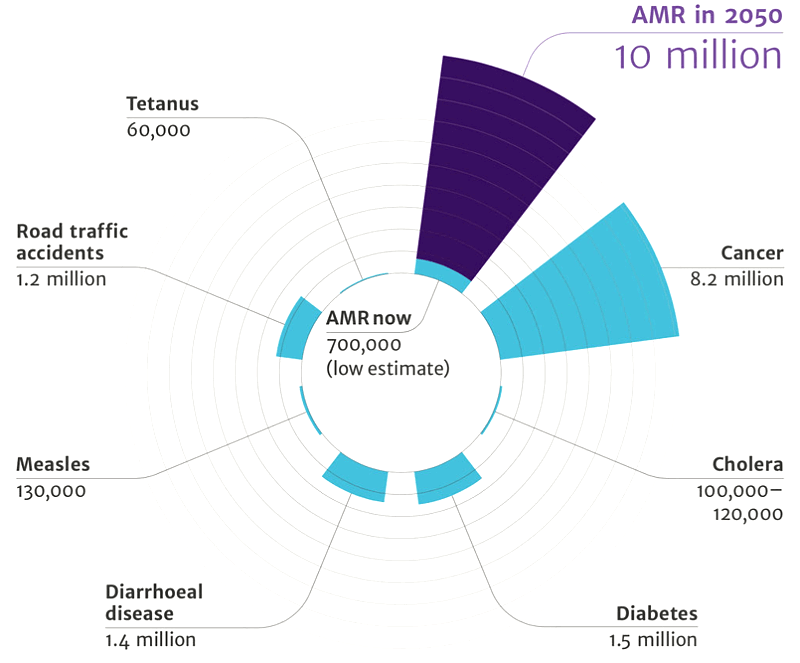 The antibiotics market is likely going to grow significantly as antibiotic-resistant pathogens become more and more common. Several European companies, such as Destiny Pharma, Summit Therapeutics, Auspherix, Iterum Therapeutics, Redx Pharma, Debiopharm and Antabio, are starting to develop their own candidates for the next generation of antibiotics.
Emmanuel Petiot anticipates the anti-infectives market will shift in the coming years, especially with the advent of diagnostics companies, which will help the transition from broad spectrum antibiotics to compounds developed specifically for each pathogen. In Europe, some of the pioneers in this field are Ares Genetics and PathoQuest.
With its investment in Deinove's AGIR project, France is joining the lead of other countries like Germany or the US that are starting to react to the rise of antibiotic resistance. "We overused antibiotics and left innovation behind," says Petiot. "The only way for technology to catch up is to put extra work and throw money at R&D. Developing an antibiotic takes 8 to 10 years and costs a minimum of €100M — it's a large investment, and therefore money will make a difference."
---
Images via Sirirat /Shutterstock; Deinove