Papernet biotech (part of the Italian Sofidel Group) launched their biological toilet paper back in 2007 as an answer to our hygiene based ecological crisis. With over 7Bn rolls produced per year in the US alone, Papernet is an award-winning subsidiary of the hygiene giant's portfolio.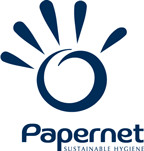 The invention of using paper for hygiene purposes was born in China, and started mass-production during the 14th century. However, toilet paper as we know it today was first made in the 19th century, with the roll-based dispenser being patented in 1883. Since toilet paper is consumed as an everyday essential in the West (7Bn rolls/year in the USA), it has therefore amassed a large ecological footprint with around 27,000 trees consumed each day across the globe.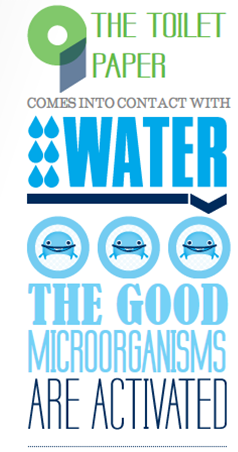 Launch of the first eco-friendly toilet paper (during 2007) by Papernet Biotech is therefore revolutionizing the paper manufacturing industry.  Invented by Bianchi, Benedusi & Altheimer, the paper contains spores  of non-pathogenic bacteria strains which germinate on contact with water, the bio-bog roll improves biodegradation in septic tanks. Other incredible advantages include an increase in paper degradation rate, elimination of odor, less substrate build-up in drains and reducing the level of scum. This microbe-tech therefore transforms a waste substrate (the paper itself) into a useful waste management tool.
The biological active tissue paper contains a mixture of 5 safe bacteria strain which improve waste-water quality. The paper substrate has a bacteria film sprayed onto each layer (0.002g per ply), which is activated through hydration and therefore germinate within 6-8 hours. The selected strains are engineered to produce enzymes such as amylase, protease and lipase which can easily degrade organic matter in a septic tank. Furthermore some bacteria strains have been selected for their ability to secrete cellulase, improving the biodegradation of the paper itself.

Papernet BioTech has been short listed for Amsterdam's innovation award 2014 as "Best professional innovation" in the Hygiene products category. This biotech also brings many business advantages, including a 40% cut in maintenance cost compared to a common toilet paper.
Perhaps through this product we can return our daily excretory habits back into a cycle with Nature, without necessarily abandoning our creature comforts.
Explore other topics:
Italy