CureVac will be working with pharma giant Eli Lilly in the development of up to five cancer vaccines based on mRNA technology.
Eli Lilly will pay CureVac $50M (€43M) upfront and invest €45M in equity to kick off a collaboration for the development and commercialization of up to five mRNA vaccines for cancer. CureVac could receive up to $1.7Bn (€1.5Bn) in milestones if all 5 cancer vaccines make it to the market, plus royalties on sales.
In exchange for such a huge offer, CureVac will take care of mRNA design and formulation, as well as the manufacturing of the vaccines for clinical studies. The biotech will also have an option to co-promote the mRNA vaccines in Germany.
The vaccines will be developed using CureVac's RNActive technology. Tumor-specific neoantigens will be encoded into mRNA molecules and delivered into antigen-presenting cells (APCs). There, the mRNA is translated into protein and used to prime the immune system to selectively attack cells presenting the cancer antigen.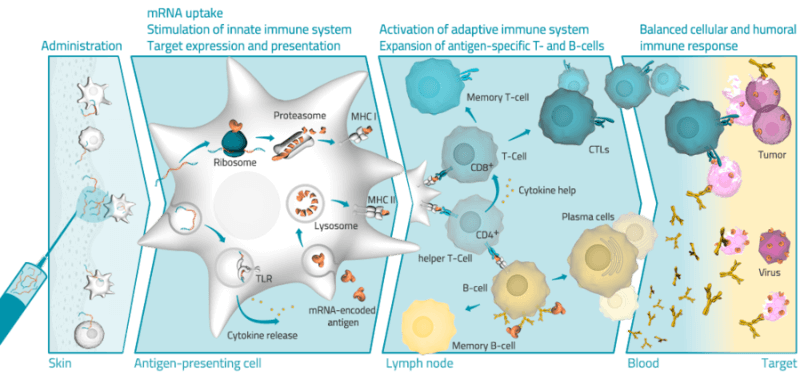 Along with Moderna Therapeutics (US), BioNTech (Germany), and eTheRNA (Belgium), CureVac is one of the few companies that have started clinical trials testing vaccines based on mRNA. This technology could bring many advantages over conventional vaccines, such as making manufacturing easier, reducing the cost and removing the need for cold storage.
CureVac was the first to bring an mRNA cancer vaccine to Phase II clinical trials, though its candidate failed to improve overall survival in patients with prostate cancer. Nevertheless, CEO Ingmar Hoerr is confident in the potential of the technology, which has been improved significantly in the last 10 years.
"We've learned that formulation and protein engineering are very important," he told me. "We now have completely different technology in our hands." In this new version, the mRNA sequence is modified to be more stable and the mRNA is delivered encapsulated within protective nanoparticles to ensure enough of the drug makes it to the target.
Though this new version won't enter clinical trials until early next year, Eli Lilly seems convinced that technology has great potential. The pharma giant will be joining the likes of Boehringer Ingelheim, Sanofi Pasteur, and the Bill & Melinda Gates Foundation, which are also collaborating with CureVac in the development of a new generation of vaccines.
I'm sure Hoerr will be really happy to see how, after a long journey pushing for a disruptive technology, all these big names are seeking to work with CureVac.
---
Images via Connect world /Shutterstock; CureVac