Eligo Bioscience has announced its first fundraising round, amassing $20M (€18.5M) that will be put towards bringing it CRISPR nanobots to a first clinical trial in humans.
The French startup Eligo Bioscience has grown rapidly since its foundation in 2014. The company has announced today its Series A round, which, led by Khosla Ventures and joined by seed investor Seventure Partners, has reached a total of $20M (€18.5M). This sum also includes $2M of non-dilutive funding granted by the French government through the Worldwide Innovation Challenge.
The company aims to use the funds to hire new scientists and expand the applications of its platform of microbiome-targeting nanobots. The goal is to bring a first therapy into Phase I clinical trials in early 2020. Although the precise indication hasn't been disclosed yet, CEO Xavier Duportet told me it will be a rare gut disease.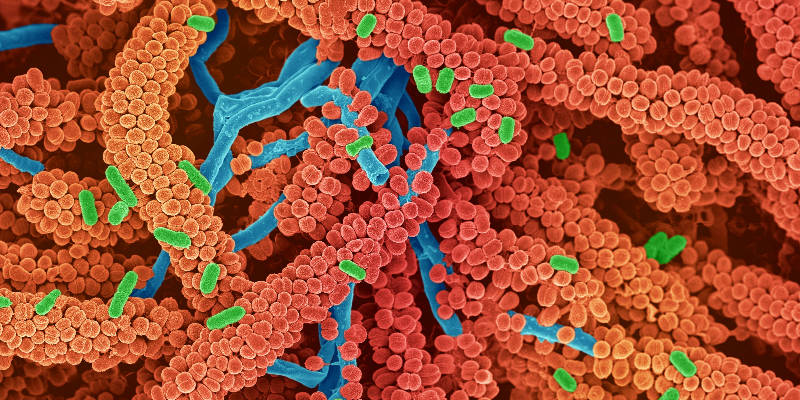 With the microbiome field gaining traction as a new approach to treat all kinds of diseases, ranging from gastrointestinal diseases to cancer, broad-spectrum drugs such as antibiotics are becoming obsolete, making way for targeted technologies.
In fact, the technology of Eligo Bioscience was born back when co-founders Duportet and David Bikard were working on using CRISPR as an alternative to antibiotics to kill bacteria. "We had publications that showed it worked, but the question was, how do we reach the bacteria?" says Duportet. "That's when we decided to couple a phage vector with the CRISPR system."
Eligo's next-generation drugs, called eligobiotics, are basically composed of a capsid delivered from a bacteriophage virus — modified to not multiply — that carries a custom payload into a specific type of bacteria. The payload within the capsid, in this case the CRISPR/Cas9 system, kills the bacteria by cutting their DNA, only when it recognizes a predetermined pathogenic sequence. (Watch Duportet explain it himself during his pitch at Labiotech Refresh last year.)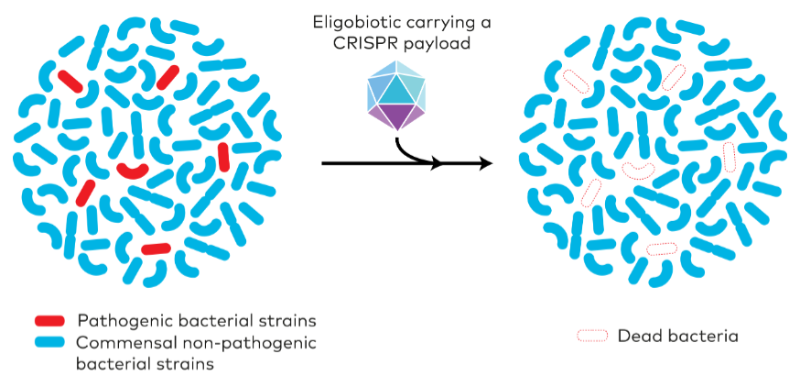 This modular system allows for modifications of both the capsid and the payload to target different bacteria and expand the applications of the technology. In fact, the company is already planning on going beyond CRISPR and use the platform to deliver proteins that can modulate the microbiome metabolism, or even temporarily turn the bacteria into customized drug factories. "CRISPR is just the start," Duportet told me.
These prospects seem to have wooed the investors. In the case of Koshla, Eligo Bioscience will actually be its first investment in France. For Seventure, a French investor with a fund specialized in microbiome companies, its interest is clear since it invested $2M in seed funding back in 2015, when the company had just started.
With such a promising, and honestly very cool technology, Duportet and Bikard have been listed in Forbes 30 under 30 and MIT Technology Review Innovators Under 35. As Duportet told me, they're also very proud of their team, which will soon be growing. "We are now 15 people from 10 different nationalities. It's really international, and I think it's pretty cool, being in France."
---
Images via ktsdesign /Shutterstock; Eligo Bioscience