Erytech will have to provide additional data before re-applying for market approval in Europe for Graspa. This leukemia therapy uses red blood cells to deliver an enzyme that starves tumors to death.
Erytech is a biotech from Lyon with a visionary approach to treat cancer: using red blood cells as drug carriers. Last year, the company submitted a Marketing Authorization Application (MAA) to attain EU approval for Graspa (eryasp), a treatment for acute lymphoblastic leukemia (ALL). However, Erytech is struggling to provide all the additional data requested and has withdrawn the application. Resubmission is scheduled for mid-2017, once all the data is collected.
In a Phase II/III trial, the treatment proved effective and safe in ALL patients. However, Erytech has been asked for additional data regarding pharmacodynamics, immunogenicity and comparison with conventional drug delivery methods.  The main challenge seems to be time to meet the requirements; Gil Beyen, CEO, stated that there are no safety issues and the company is still committed to bringing Graspa to the market.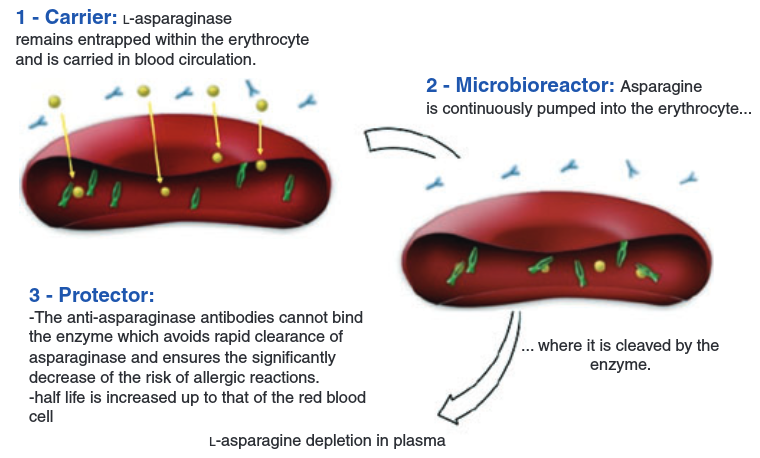 Erytech's unique technology consists in the encapsulation of enzymes within red blood cells, protecting the drug while it acts and prolonging its half-life in serum. In the case of Graspa, the therapeutic enzyme is L-asparaginase, which depletes asparagine from the bloodstream and starves tumors to death without damaging healthy cells. One of the key advantages is that red blood cells don't have any genetic material, deeming them safer than other cell therapies.
The promising possibilities of this approach recently attracted a new player in the field: US-based Rubius Therapeutics is developing its own red blood cell engineering platform. However, Erytech is still positioned at the forefront with positive Phase III results in ALL as well as ongoing clinical trials for acute myeloid leukemia (AML), Non-Hodgkin Lymphoma (NHL) and pancreatic cancer. In addition, the French company has been granted orphan drug designations for Graspa in ALL, AML and pancreatic cancer from both the EMA and the FDA.
With this vantage point, Erytech will likely maintain its status as a pioneer in drug delivery despite this unexpected delay. If the resubmission is accepted, leukemia patients may soon benefit from its technology.
---
Featured image by Raj Creationzs/shutterstock.com
Figure from Domenech C. et al., Br J Haematol. 2011 Apr;153(1):58-65
---