From leukemia to multiple myeloma, biotech is working hard to cure blood cancer. This year's edition of the American Society of Hematology (ASH) annual meeting features immuno-oncology therapies developed by the best European biotechs, with Novartis taking the lead in the CAR-T field.
The 58th ASH annual meeting is wrapping up today, after the best companies and research institutions showed off their latest achievements towards a cure for blood diseases. Among its top-level participants, eight European biotechs have announced data on immuno-oncology therapies.
These approaches represent a huge leap towards developing a cure for cancer by using the patient's own immune system to fight against tumors. In particular, liquid tumors are the easiest target, making blood cancer one of the most important fields for biotech companies to prove their concepts.

With Juno Therapeutics out of the race after multiple deaths in the clinic, Novartis has taken the lead in chimeric antigen receptor T-cell (CAR-T) therapy with positive results for CTL019 in Phase II trials to treat B-cell acute lymphoblastic leukemia (ALL), where 82% of patients showed remission.
Kite Pharma, its main competitor, has released similar results in Phase I and is applying for FDA approval despite two patient deaths in its trials. Novartis, in spite of reporting severe side-effects in 50% of patients, plans to submit applications to the FDA and EMA early in 2017.
Celyad's NKR-2, on the other hand, has reported none of the severe side effects associated with CAR-T in Phase I. Although it might take the Belgian biotech longer to reach the market than its competitors, could this safer alternative that targets 80% of tumors outperform them all?

Kiadis Pharma, in Amsterdam has presented positive one-year Phase II results for ATIR101 in graft-versus-host disease (GVHD). This is a severe complication where donor cells attack the patient after bone marrow transplantation, which is a common and effective treatment for multiple types of blood cancer.
ATIR101, which has shown to decrease mortality in clinical trials, has Orphan Drug Designation by the EMA. This T-cell immunotherapy depletes alloreactive cells from the donor to minimize GVHD and eliminate the need of immune suppression while keeping functional T-cells to kill any residual cancer cells and prevent relapse.

With two antibodies heading the list of top-selling biologicals, these large molecules are driving the shift from traditional, purely-chemical pharma to the era of biologicals. As expected, many companies presented data on cancer treatments that harness the power of antibodies.
MorphoSys, an antibody expert from Munich, has announced results for two of its antibody programs. MOR202 targets the CD38 antigen of multiple myeloma (MM) cells, one of the most strongly expressed antigens in this type of cancer. Impressive results from Phase I/IIa show a response in 100% of patients for the highest dose.
MOR208, which targets the CD19 antigen of B-cells, has shown positive results in Phase IIa for relapsed non-Hodgkin's lymphoma (NHL).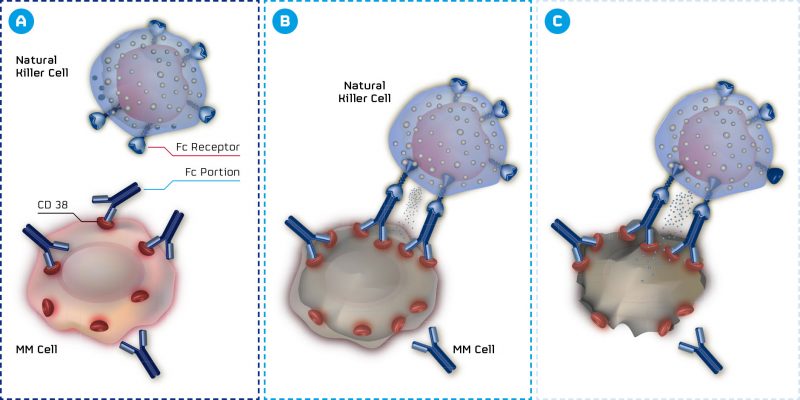 A number of other companies reported encouraging results from early-stage clinical trials:
Janssen-Cilag is reinforcing the position of Imbruvica (ibrutinib) in the market with results from a five-year Phase Ib/II trial. This Bruton's tyrosine kinase inhibitor targets malignant B cells in 89% of patients with chronic lymphocytic leukemia (CLL).
The French Innate Pharma has reported a Phase Ib/II study to treat relapsed acute myeloid leukemia (AML) with a combination therapy using azacitidine, which inhibits DNA methylation, and Lirilumab, a human monoclonal antibody that blocks killer-cell immunoglobulin-like receptors (KIRs).
The company also announced Phase I results for IPH4102, a humanized monoclonal antibody to treat cutaneous T-cell lymphomas (CTCL), a subtype of non-Hodgkin's lymphoma.

Argenx, in the Netherlands, has two antibody programs under development: ARGX-110 in Phase Ib against relapsed T-cell lymphoma (TCL) and ARGX-113 in Phase I for myasthenia gravis (MG) and immune thrombocytopenia (ITP).
From Germany, Apogenix is testing Asunercept (APG101), a fusion antibody against the CD95 receptor of erythrocyte progenitor cells. The molecule is designed to treat myelodysplastic syndromes (MDS) that affect the maturation of blood cells.
---
The amount of promising data presented at the Annual ASH Meeting is overwhelming: it's a sign that biotech is every day getting a bit closer to the development of effective treatments for blood cancer. We're already waiting to hear about what innovations will bring a new hope in 2017.
---
Featured image by Cristal light/shutterstock.com; images by Melis/shutterstock.com; Juan Gaertner/shutterstock.com; Urfin/shutterstock.com; MorphoSys; Innate Pharma
---