Bavarian Nordic has been granted €50M loan from the European Investment Bank (EIB) to support the companies' pipeline including novel vaccines against Ebola and other infectious diseases as well as cancer immunotherapies.
The loan is a three-to-five year bullet loan with fixed or variable interest payment. Bavarian Nordic has up to 18 months to draw on this offer but, by looking at its last cash forecast, it seems that they already plan to take at least €47M.
The company pipeline comes from a long-standing collaboration with the U.S. Government to develop biological countermeasures, including the non-replicating smallpox vaccine, IMVAMUNE, which is stockpiled by the U.S. and other governments, to use it in case of emergency.
Bavarian Nordic's experience with these viruses leads to the foundation of two poxviral-based vaccine platform technologies. These technologies are capable of acting as a delivery vehicle for genes expressing proteins. Although, it is based on small pox, the virus cannot spread in a vaccinated person, which conduced to a favorable safety profile observed in more than a dozen clinical studies conducted by Bavarian Nordic.
Bavarian Nordic partnered with Janssen (J&J's biopharma branch) to develop the Ebola vaccine, which has been fast-tracked by authorities in response to the current situation in West Africa. The company also announced three days ago th positive results from the preliminary phase I of this drug candidate.
Additionally, in collaboration with the National Cancer Institute, Bavarian Nordic has developed a portfolio of active cancer immunotherapies based on its pox-virus based technologies, including PROSTVAC. The drug is currently in Phase III clinical development for the treatment of advanced prostate cancer. The company has partnered with Bristol-Myers Squibb for the potential commercialization of PROSTVAC.
Bavarian Nordic's entire portfolio will also benefits from the loan, as for example the early cancer immunotherapy candidates, CV-301.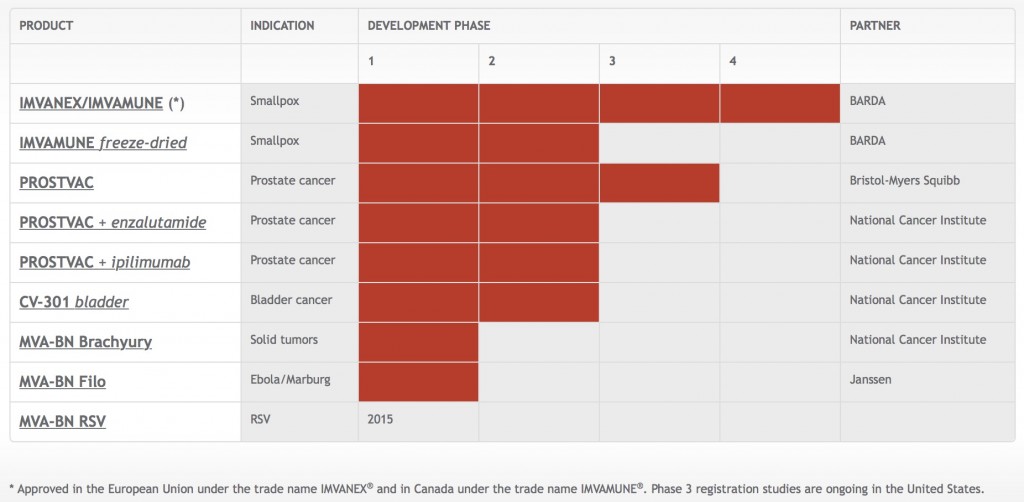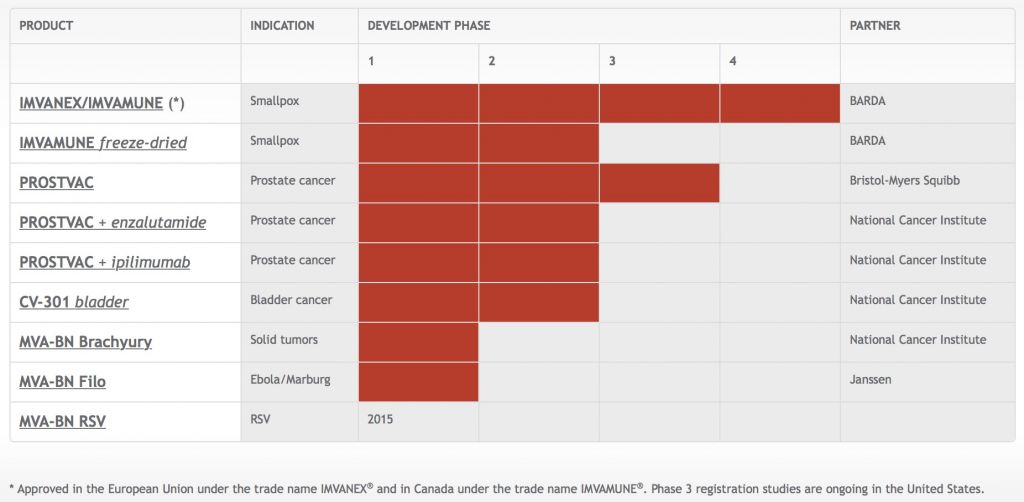 Bavarian Nordic has a nice and original story showing that infectious diseases allow also the construction of a drug pipeline capable of fighting other viruses and even cancers. Nature is definitely an incredible source of innovation.