Have you ever heard of 4D pharma (UK)? Well, it's become one of the biggest and cash-rich players in the European Microbiome scene. Perhaps the acquisition of this Irish Chronic disease spin-off will bring their name to the spotlight…

 4D pharma in Leeds (England) acquired Tucana, a spin-off from the University College Cork (UCC), to complement its therapeutic platform with its research into treatments of a wide range of chronic diseases.
We have previously covered 4D pharma, a company focusing on the development of 'live biotherapeutics', particularly in connection with the Microbiome.
Although relatively young (founded in only 2014), 4D has become one of the major contributors to Europe's microbiome ecosystem, competing with French biotechs like Enterome (whose strategy we discussed of CEO Pierre Belichard) and US biotechs like Seres and Evelo.
This new acquisition shows again the surprising dynamism of 4D. It has already raised a significant amount of funding (€99.7M), and has established a team with a proven track record in Biotech (notably David Norwood and Thomas Engelen – the previous director of Novartis Consumer Health) and is backed by Neil Woodford, the biggest VC in the UK…
Indeed, 4D's stock price is currently £745 – almost a €1000 per share (wow).
As a recent spin-off company from the UCC (founded just last month), Tucana was based on the research by Fergus Shanahan and Paul O'Toole, academics at the APC Microbiome Institute in Cork. They will continue to lead the research, now at 4D.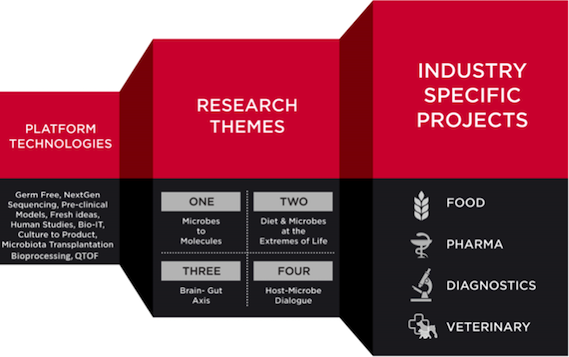 The APC institute has several ongoing collaborations within the industry, besides their pre-existing partnership with 4D (on a project for Autism). These include big players like Janssen (which has a Microbiome Institute that is also collaborating with Enterome), AbbVie and Danone (a leader in Probiotics).
According to Duncan Peyton (CEO of 4D) the acquisition of this Cork start-up will help them speed up the development of their pipeline. Tucana's R&D is closely related to two of the company's products: Blautix, a therapy for Irritable Bowel Syndrome (IBS) currently in Phase I clinical trials that seems to be having promising results, and MicroRx, a proprietary library of gut microbiota.
In a field where big collaborations are key, this new acquisition of a research start-up can help 4D Pharma position itself as a European leader in the field of microbiomics.
---
Feature Image Credit: Remix of Graphics by Labiotech. Lego Leprechaun (CC 2.0: Kevin Poh)