Eva Diagnostics was one of the contestants at our Startup Battle during Labiotech Refresh. Take a second look with us at the pitch of Eva's exciting diagnostic Tech…
We had Sabine Dziemian, the head of data analysis at Eva Diagnostics, explain how this spin-off out of Imperial College London is joining the race for MedTech diagnostics.
---
Eva Diagnostics was one of our picks for awesome London-based Biotechs and was also featured in the BioBeat15 report for women transforming the UK Biotech scene…

It has two devices in the making: AnemiPoint, a finger-prick test for anemia, and HemiStat, which could help chemotherapy patients monitor their health, schedule next treatments and detect infections.
Blood-based diagnostics are huge right now. There are many new diagnostics from blood samples coming up, thanks to research on biomarkers – in indications like colorectal cancer, lung cancer, liver disease and even depression. There are also digital health companies like Kiweno that are offering the public access to standard blood tests.
Then there are MedTechs developing technology to make blood tests available anywhere – without the need for a lab. This is the vision of companies like Epistem and, of course, Eva Diagnostics.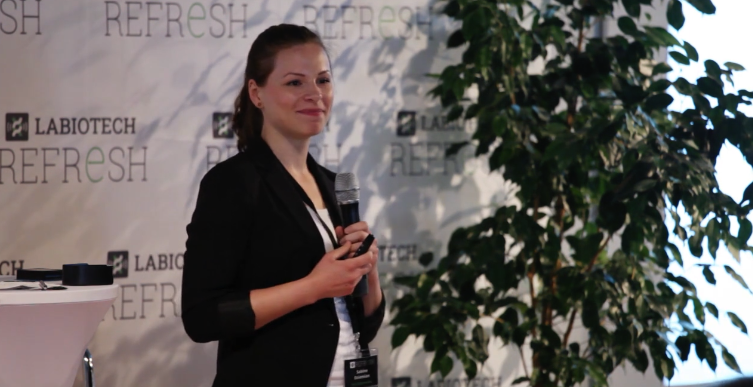 Whenever we take measurements with our devices, that (…) is actionable information, so it can be the basis for immediate decision-making."
Be sure to watch the later part of the video for a discussion of how critical these anytime-anywhere blood tests really are, the aftermath of Theranos scandal and how to get the NHS as a client…
---
Feature Image Credit: Eva Diagnostics Pitch in the Startup Battle at Labiotech Refresh Berlin, May 24th, 2016 (CC 3.0 – Claire Braun at Labiotech.eu)
All images of the conference speakers are available on our Flickr account under a Creative Commons 3.0 License. Feel free to share!
---