Update (05/07/2017): BioNTech has published new results in Nature revealing a strong immune response in all 13 patients treated with its personalized mRNA cancer vaccine, strengthening its potential to become a universal cancer vaccine. 
---
Originally published on 02/06/2016
BioNTech and its academic partners have published in the well-known publication Nature, describing the first clinically applicable and systemic mRNA cancer immunotherapy vaccine.
Based in Germany, BioNTech is one of the major players in the mRNA field along with US money-magnet Moderna and German CureVac, which has already raised €300M. BioNTech is now disclosing a major achievement: the first clinically relevant and systemic mRNA cancer vaccine in the world. Results published in Nature show that the therapy has a body-wide effect and elicits a strong immune response.
The research was performed in collaboration with several academic and clinical partners – TRON, Research Center for Immunotherapy (FZI), the University Medical Center at the Johannes Gutenberg University Mainz and the Heidelberg University Hospital.
The group has pioneered a novel approach to target a nanoparticle mRNA vaccine, RNA-LPX, to dendritic cells, which collect antigens to present to cells of the immune system, in different parts of the body: spleen, lymph nodes and bone marrow. Once the mRNA interacts with the dendritic cells, it rapidly sparks off a potent response that mimics a natural antiviral immune response.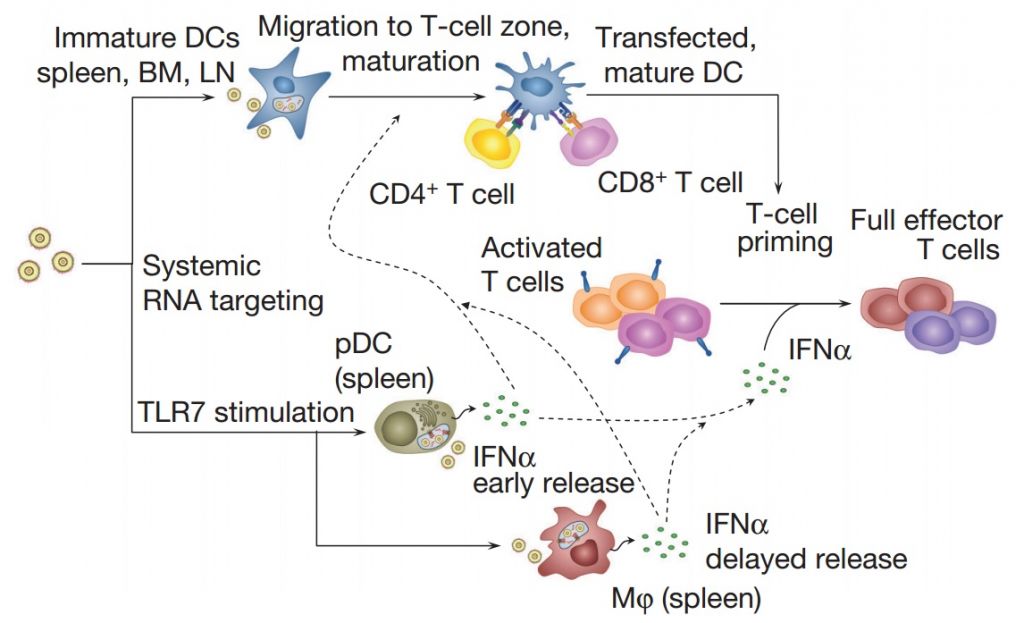 The technology works with a dual mechanism, involving both the adaptive, T-cell-mediated immune system and the innate, type-I interferon (IFN)-mediated system. The innate response is particularly important for the full antitumoral effects of the cancer vaccine.
Besides a promising mode of action and efficacy data from preclinical tumor models, the work also presents early data from a Phase I trial in patients with melanoma. In this clinical study, the cancer vaccine has again shown to elicit very strong immune responses even at a low dose. It was also very well tolerated by patients, with no severe toxicities observed to date.
The technology of BioNTech has already attracted US biotech giant Genentech, with which it has signed a massive deal with a €280M upfront payment. The company is also developing mRNA-encoded antibodies that could make the production of therapeutic drugs easier than ever.
This is a great step forward in mRNA therapeutics, which could bring about a truly personalized immunotherapy for all kinds of cancer. Watch our interview with Sean Marett, COO of BioNTech, to learn more about the exciting mRNA field.
---
Images via BioNTech; Kranz et al. (2016) Nature 534, 396-401
---