We last wrote about GeNeuro in January, when they announced the launch of an IPO for their Multiple Sclerosis phase IIb trial. Now, as of yesterday they are listed on the Euronext Paris market.


GeNeuro (in Geneva) is developing therapies and diagnostic tools for diseases associated with the expression of the human endogenous retrovirus MSRV, such as the Multiple Sclerosis (MS).
Previously, this biotech and the French Servier have signed a partnership to develop first medicine addressing a causal factor of MS.
Shares are opening at €13 each, raising a total of €33M and its Market cap already sits at €190M – definitely a very nice move.
GeNeuro is the first Swiss company to be listed on the Euronext Paris in a very long time…and in fact, it's been nearly 6 months since we last had a Biotech IPO in Europe at all.
This is in part due to the financial insecurity at the moment, a lot of which is also political. This is why GeNeuro's news is particularly welcome.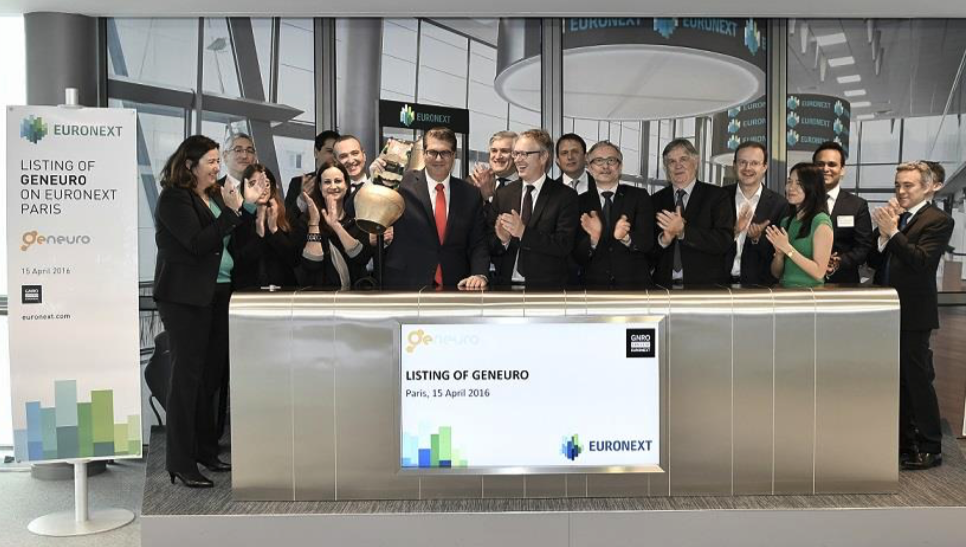 Chairman and CEO of GeNeuro, Jesús Martin-Garcia, told Euronext that this is an important part of their strategy for clinical development in the US, as well as exploring the potential of therapies for other autoimmune indications with their technology.
These include chronic inflammatory demyelinating polyneuropathy (CIDP) – an orphan neurological disease – and type 1 diabetes.
So why is GeNeuro so well-known in the MS Community?
Well their lead candidate (GNbAC1) is a humanized monoclonal antibody which targets the MS-retrovirus envelope protein (MSRV-Env).
GNbAC1 has already successfully completed Phase IIa, showing encouraging signs of efficacy on a first small cohort of patients as well as an optimal safety profile, according to GeNeuro and Servier.
Their ongoing phase IIb trials have already enrolled 260 people across Europe. To find out more, here is more detail on how the therapy works.
This is very exciting news for this biotech, and I am not al0ne in celebrating this breakthrough for GeNeuro's development.
---
Here's yesterday's launch and an interview with the CEO by Euronext TV…
---
Feature Image Credit: Remix of Graphics by Labiotech (CC 3.0 Labiotech.eu)