Californian Amgen has announced its plans to acquire the Dutch pharma Dezima off of Forbion for €265M upfront. An additional €1.1Bn will be paid through development on their cardiovascular drug candidate which has shown good results in its phase II trial.

Amgen is set to buy out Forbion's portfolio of Amsterdam based Dezima Pharma, a relatively young biotech (founded in 2012) which focuses on research into cardiovacular disease. Dezima was staffed, funded and presented to other investors by their father VC Forbion Capital Partners, permitting a Cambridge based team to develop their lead candidate (TA-8995) to treat cardiovascular disease dyslipidemia.
Dyslipidemia describes high serum lipid levels (including high and low density cholesterol), which can cause increased risk for cardiovascular related disorders such as atherosclerosis. The market for dyslipidemia in particular has swollen to almost €22Bn to include fish oils, statins and fibrates. This candidate brings a potent promise to the cardiovascular market as a cholesterylester transferase protein (CETP) inhibitor, which functions by preventing conversion of HDL to LDL (and thus reducing LDL contribution to vascular plaque build up).
Dezima's phase II 'TULIP' study (TA-8995: its Use in patients with mild dysLIPidemia – how very Dutch!) was published in the Lancet in June and has confirmed how their candidate is a very effective in lowering LDL when used both alone and in conjunction with statins.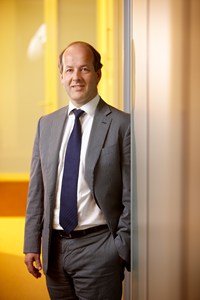 Sander Slootweg, Chairman of Dezima and Managing partner at Forbion, declared it was a clear set of steps which had led up to Amgen's interest in acquiring the Dezima TA-8995 portfolio. In particular he mentioned the efforts of smart-capital investment made by Forbion, who attracted New Science Ventures and BioGeneration Ventures.
It is important to also mention that Japanese Mitsubishi Tanabe Pharma Corporation (MTPC), who originally designed TA-8995 before licensing it out to Forbion, will also receive a portion of the sale, as well as retaining certain royalties in regions of Asia (Japan in particular).
It's therefore surprising to see how Forbion has managed to in-license a product and within 3 years has then sold it on for €1.365Bn. What a smooth operation…