Bioartist Golnaz Behrouznia creates gorgeous multimedia installations inspired by microscopic life. Keep an eye out for her work at festivals in Paris and Toulouse this September.
Golnaz Behrouznia has always been passionate about natural science, particularly the world seen through a microscope. Through a combination of plastic sculpture, drawing, and installation video, she brings it to human-sized life, creating an experience in which her audience can immerse itself.
After moving to France from Iran in 2008, she has presented her work in a number of exhibitions around France. Recently, Golnaz's work, "Lumina Fiction," was displayed at CDA north of Paris as part of its "Fiction Biologique" summer exhibition. Projections of imaginary creatures inspired by microbes float gracefully on voile sheets, mirroring what you'd see through a microscope:

LUMINA FICTION: SPATIAL INSTALLATION @ Golnaz Behrouznia from Golnaz on Vimeo. Collaboration with François Donato.
This month, Golnaz was commissioned to paint a mural, "Imagining Vegetable Seeds," on the wall of the emergency waiting room at l'Hôpital Chiva in Ariège: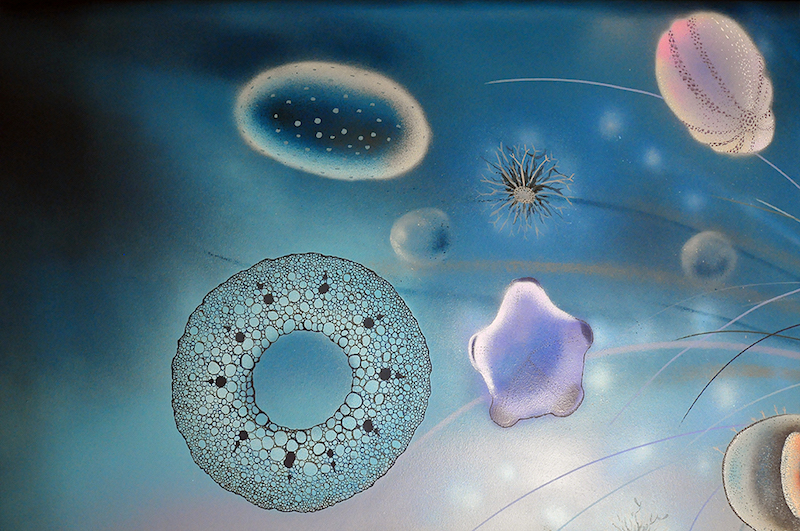 In September, Golnaz's pieces, "Imaginary Ecosystems #7," and "Vanimentis," will be on view at Festival Vivant in Paris and the 12th Festival Électro Alternativ in Toulouse respectively. Festival Vivant looks especially interesting to us here at LaBiotech because of its dedication to synthetic biology and biotechnology as well as its inspirational artistic approach to a discussion of the possibilities of these fields.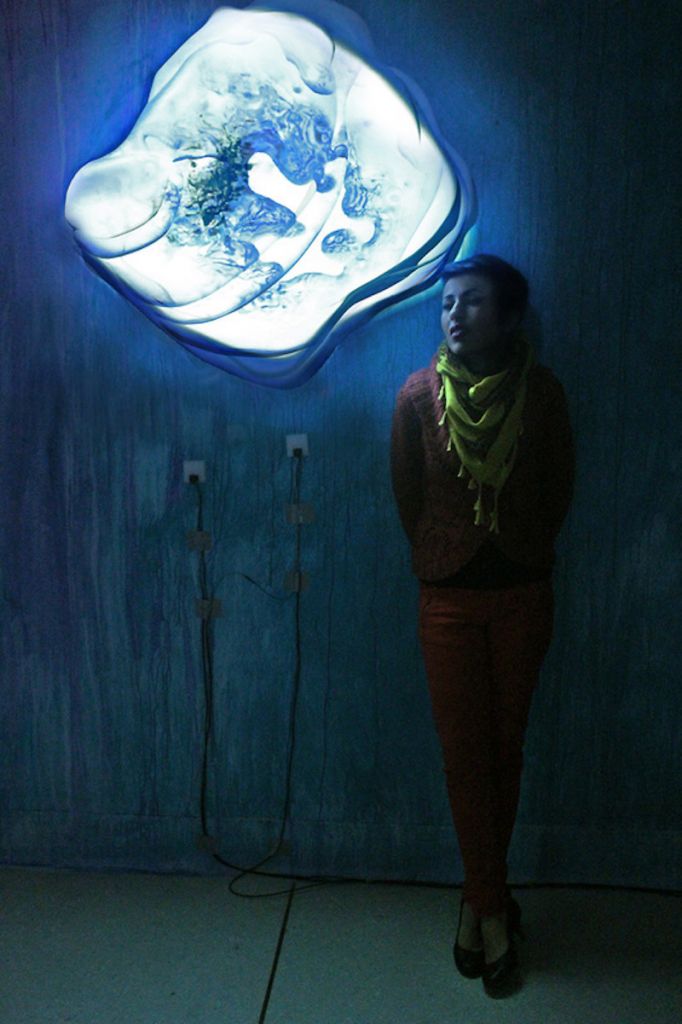 Read more about Golnaz and her other exhibitions on her website. You can see her piece, "Imaginary Ecosystems #7," in person at Festival Vivant held from the 15th to 17th of September this year; check out all of its other cool events here.
---
All images from the website of the artist, Golnaz Behrouzniua.
---