France has great Synthetic Biology Biotech companies. Paris-based Global Bioenergies carried out the first isobutene production trial in its industrial pilot of Pomacle-Bazancourt in the east of France. Two other companies, Deinove and Fermentalg are growing extremely fast, and giant Total is investing massively in the field. Is France on the good way to become European leader?
Global Bioenergies successfully run their first production run of isobutane at industrial scale, which was initiated on November 3rd, 2014. It focus on the development of a fermentation process that targets gaseous isobutene since 2008. Proof of concept was obtained in 2009 and the company built a prototype in 2010. They signed agreements with major industrial partners including German car manufacturer Audi and Arkema, and are valued €100M on NYSE-Euronext. (Thank you LaBiotech Map for all these precious financial data).
This major milestone is a key step but the process now needs to be adapted to an industrial environment, which is the biggest challenge for industrial Biotech companies.
Marc Delcourt, Chief Executive Officer of Global Bioenergies concludes: "The recent decrease in oil prices, a consequence of the temporary abundance of shale oil in the United States must not mask the underlying reality: the upcoming depletion of fossil resources will endanger the future of our civilization. The time is nearing when our bio-isobutene production process will appear as an important piece of the puzzle of the upcoming energetic and chemical transition".

And Global Bioenergies is not the only company developing synthetic biology-based biofuel.
Deinove, a French company, built a metabolic engineering platform based on bacteria Deinococcus. This bacteria is one of the only living organism to be able to repair its genome once broken. This discovery, published in Nature and used as starting point of the company, allows higher resistance to stress and finally improve conversion rate. Deinove grows very fast and is already valued €37M.
Fermentalg is another French company with a two-digits growth. It develops a propriatory synthetic biology platform based on micro-algae. Their first focus is green chemistry because of easier market access but long term focus remains biofuel. The company is based next to Bordeaux, the well-know French Wine region, and is valued €81M.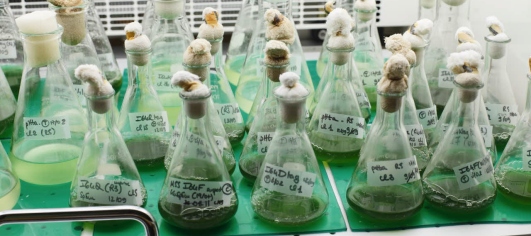 Last but not least, Total, French petroleum giant, is investing massively in renewable energy. It is World leader on solar energy with almost 60% world-wide market shares and is injecting millions into Synthetic Biology-based Biotech start-ups. With €8.4B profits in year 2013, Total has enough ressources to finance innovation and trust a market leader position on this new high-value market.
France is definitely on the good way to become European Leader in Synthetic Biology-based Biofuels with several high-level Biotechs.