Prokarium Ltd today announced a new £377k (€534k) funding from SynbiCITE to develop an innovative Chlamydia vaccine using synthetic biology. The new therapy could help the 92 million people affected by Chlamydia each year and help fighting one of the most common sexually transmitted infections.
The £498k (€706k) Chlamydia vaccine project is funded at £377k (€534k) from SynbiCITE, the UK's Innovation and Knowledge Centre for Synthetic Biology, and £121k (€172k) from Prokarium and will enable Prokarium and its collaborator Prof Robin Shattock of Imperial College to complete the pre-clinical development of the vaccine which could enter clinical trials in 2017.
With 92 million new cases worldwide per year, Chlamydia is one of the most common sexually transmitted infections in the world. Symptoms can be serious, including pelvic inflammatory disease that can lead to infertility and, in children infected by their mothers, even blindness.
Prokarium uses an innovative approach to develop its oral vaccine. The vaccine is expressed in attenuated strains of the bacteria Salmonella enterica which have been proven to be safe in clinical trials. The bacteria are ingested, pass through the stomach and then traverse the lining of the small intestine via M cells into lymphatic nodules called Peyer's patches. There they are phagocytosed by antigen-presenting cells (APCs) such as macrophages, and express the antigen genes. The antigens are processed and presented by the APCs to stimulate humoral and cellular immune responses. Then, you own body do the job to fight the Chlamydia parasite.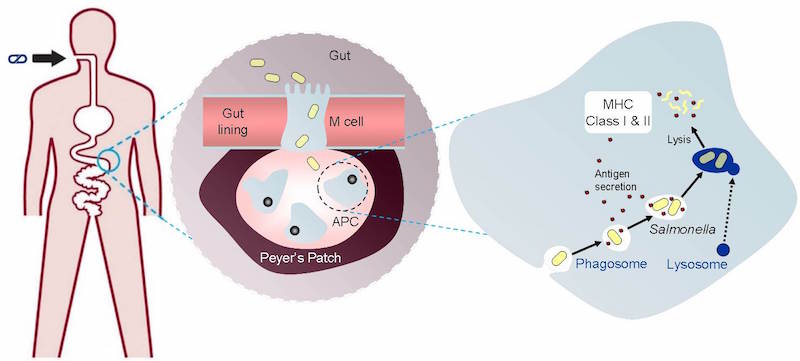 According to Dr Ted Fjällman, CEO of Prokarium, "the new vaccine uses synthetic biology to make the first safe and effective Chlamydia vaccine since the 1960s when conventional methods revealed unacceptable side effects and clinical efforts were abandoned. We have produced a carrier in the form of a re-engineered strain of Salmonella containing the blueprint for the vaccine. This is a uniquely suitable solution and has already raised interest from big pharmaceutical companies."
More than a cure, the vaccine could also be an effective way for the healthcare system to fight this sexually transmitted infection. A National Chlamydia Screening Programme report shows that in the UK, the NHS  is spending around €65 per person on screening for Chlamydia and it is expected that a mass vaccination programme for 10-14 year olds would cost significantly less.
The British company has also other aces up its sleeves with advanced projects in Clostridium difficile and a dual diarrhea and typhoid vaccine. To lead them into the clinic, Prokarium is currently seeking a further $20 million Series B financing.