Galapagos is starting a new PhaseIIb/III clinical trial for ulcerative colitis that has triggered a €9.4M milestone payment from Gilead. Can this partnership beat out its many competitors?
Galapagos is one of the few billion-euro biotechs in Europe, boasting top-level partnerships with AbbVie for cystic fibrosis and MorphoSys for inflammatory diseases. The company now has news from its collaboration with Gilead: filgotinib has started a Phase IIb/III trial in ulcerative colitis. With this successful step in clinical development, Galapagos will receive a €9.4M milestone payment.
Filgotinib is already in Phase III for rheumatoid arthritis and Crohn's disease. Although rheumatoid arthritis is a big market expected to hit an overwhelming €76B ($80.7B) by 2020, it is already crowded with big players. Humira (adalimumab), the top-selling drug developed by AbbVie, generated €13B ($14B) last year, and will soon be replaced by biosimilars in the pipelines of Boehringer Ingelheim, MSD, Amgen, Pfizer and Novartis' Sandoz among others.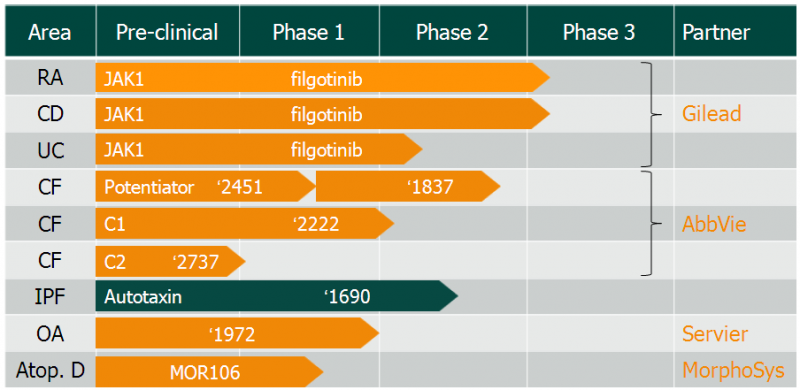 With the addition of ulcerative colitis to its indications, the drug could bring high revenues. The ulcerative colitis market has a decent size, being expected to reach €4B ($4.2B) by 2023, and much less competition. The team's main rivals for filgotinib will be Johnson & Johson's Remicade (infliximab) and a biosimilar from the South Korean CellTrion.
Galapagos and Gilead seem to be facing a very competititve landscape, so the results of the trial will be crucial to determine whether they can outperform their rivals. For now, the team will have to wait for data from clinical trials on the three indications of filgotinib, which are expected in 2020.
---
Featured image by IURII BURIAK/shutterstock.com; figure from Galapagos