At last! We now know the fate of Galapagos Phase III Rheumatoid Arthritis drug after AbbVie's shocking abandonment. The Mystery replacement partner has now been revealed as Gilead!

Galapagos will receive an upfront payment of €670M from California's Gilead, consisting of a license fee of €277M and a €393M equity investment in Galapagos. In addition, Galapagos is eligible for payments up to €1.25Bn in milestones, with tiered royalties starting at 20% and a profit split in co-promotion territories.
Holy carp. That's a big deal…
So at the end of September, as many of you probably remember, there was an uproar on the NASDAQ after AbbVie unexpectedly pulled out of the partnership with Galapagos to push their own JAK-1 Inhibitor for inflammatory chronic diseases such as Rheumatoid Arthritis and Crohn's disease.
Following strong phase II results for treatment of up to 900 patients with rheumatoid arthritis, filgotinib stirred an initial rush from pharma giants AbbVie and Johnson&Johnson, both of which who has rheumatoid drug patents due to soon expire.
This investment followed a more-than successful IPO launch into the US market, which smashed the IPO target of €134.3M in a public 'bubble' to become the largest Euopean biotech IPO on the US market ever at €240M.
So, after Abbvie sealed the deal to collaborate with Galapagos on this new rival to Humira (AbbVie's rheumatoid patent soon to expire), it committed a really unprecedented U-turn. This caused Galapagos stock to drop by 39% (in Amsterdam) following its announcement to jump ship on September 25th.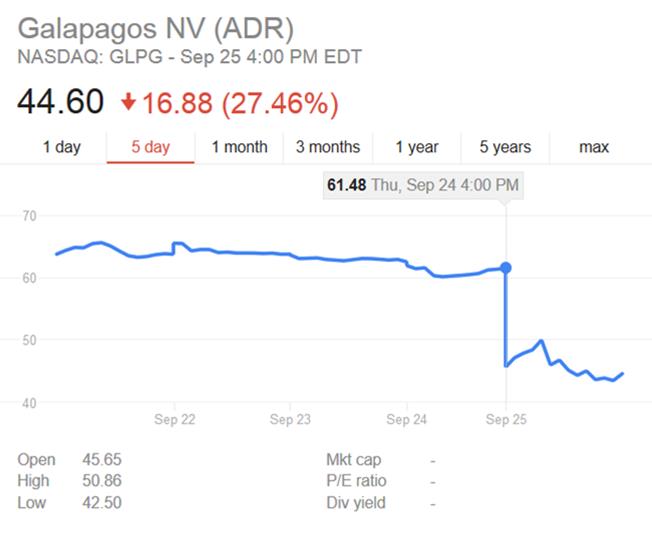 This wasn't necessarily a disaster for Galapagos though, who have bounced back from flaky collaborations before (e.g. GSK in 2014). Also, Galapagos has shown that filgotinib is actually 3 times more selective than AbbVie's ABT-494, so this appears to be AbbVie's loss. 
So in steps Gilead to take AbbVie's place…
Under the terms of the agreement, the companies will collaborate jointly on the global development of filgotinib starting with the initiation of Phase III trial for Rheumatoid (followed by Crohn's) in 2016.
Galapagos will co-fund 20% of global development activities and Gilead will be responsible for manufacturing and worldwide marketing and sales activities, which is a big deal considering Gilead's international clout within the Biopharma industry.
This appears to be the steady recovery Galapagos has been searching for (which is also reflected in nice stock growth once again), with a more stable partner willing to nurture their RA and Crohn's candidate to the market finish line.
---
We interviewed Andre Hoekema at Bio-Europe 2015 in Munich last month…