Genmab, the Danish company developing the DuoBody technology platform to create and develop bispecific antibody candidates, just signed another licensing agreement with a Big Pharma company. This time, Novo Nordisk has been caught in a potential $502 million (€453m) deal.
The DuoBody technology involves three basic steps to generate stable bispecific human IgG1 antibodies. In the first step, two IgG1s, each containing single matched mutations in the third constant (CH3) domain, are produced separately using standard mammalian recombinant cell lines (step 1 on the following figure). Subsequently, these IgG1 antibodies are purified according to standard processes (step 2) and then recombined in a bispecific antibody product with a very high yield (typically >95%) (step 3).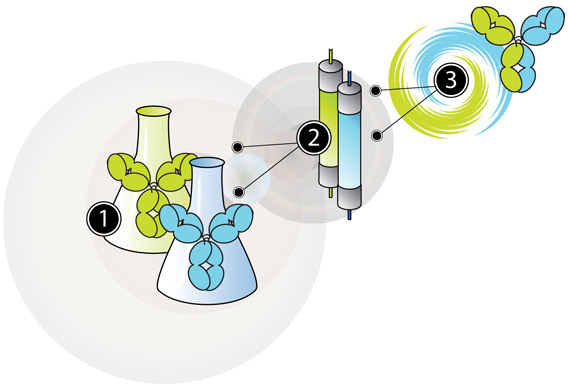 To date, Genmab has licensed the DuoBody technology to 7 companies including Novartis, Janssen, Kyowa Hakko Kirin, Eli Lilly, Cormorant, Agenus and an undisclosed major biotech.
Novartis licensed the DuoBody technology with options to commercialize two bispecific programs in a deal signed in June 2012 that included an upfront payment of $2 million (€1,8m) with a total potential deal value of $175 million (€158m) plus research funding and royalties.
One month later, Genmab entered a potential $3.6 billion (€3,35Bn) agreement with Janssen, including diverse programs with one currently in pre-clinical stage to target EGFr and cMet, two validated targets for cancer therapy.
The new deal signed with Novo Nordisk is quite similar to those with Novartis and Janssen except that the bispecific antibodies will target an undisclosed disease area outside of cancer therapeutics. Under the terms of the agreement, Genmab will receive an upfront payment of  $2 million (€1,8m) from Novo Nordisk and after an initial period of exclusivity for the two target combinations, Novo Nordisk has an option to maintain exclusivity for $500 million (€451m) or take the licenses forward on a non-exclusive basis for $400 million. In addition, Genmab will be entitled to single-digit royalties on sales of any commercialized products.
This new agreement strengthens the position of Genmab as a leader of the bispecific antibody discovery. This new approach could be a good way to improve current monospecific antibody therapies that are not showing efficacy with all treated patients.