Artist Luke Jerram is behind Glass Microbiology, a series of beautiful glass-blown microbes that are changing the way we perceive viruses and bacteria.
We've all seen at some point brightly-colored illustrations of viruses, most likely the feared HIV or an alien-like bacteriophage. These representations feed our imagination and help us understand the tiny but complex world of microbiology.
"The problem is that you end up with a percentage of the public believing that viruses are these brightly coloured objects. These are often portrayed in newspapers as having an air of scientific authenticity and objective truth, whereas actually that isn't the case. Viruses are so small they have no colour. They're smaller than the wavelength of light," says artist Luke Jerram on his website.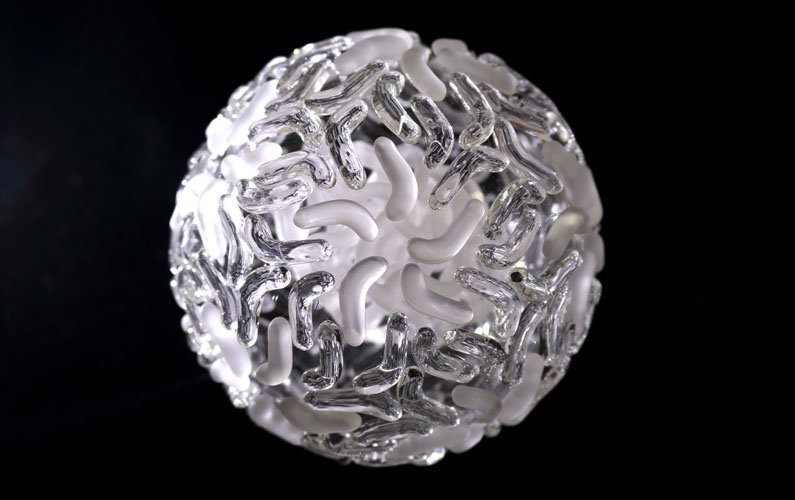 In 2004, Jerram, who is based in Bristol, UK, came up with the idea of representing some of the deadliest pathogens in the world in a completely different way. The result is Glass Microbiology, a growing series of beautiful transparent sculptures, about a million times bigger than the microbes they represent.
"For me, the transparent and colorless glassworks consider how the artificial coloring of scientific microbiological imagery affects our understanding of these phenomena," Jerram says. "I'm colour blind and this has given me a natural interest in exploring the edges of perception." 
In order to create realistic sculptures, Jerram works in collaboration with virologists from the University of Bristol. "We have to piece together our understanding by comparing grainy electron microscope images with abstract chemical models and existing diagrams," says Jerram. "Often scientists don't know the answers for sure and scientific understanding of a virus also changes year by year. Over time, scientific understanding of the virus improves and so I have to amend my models accordingly."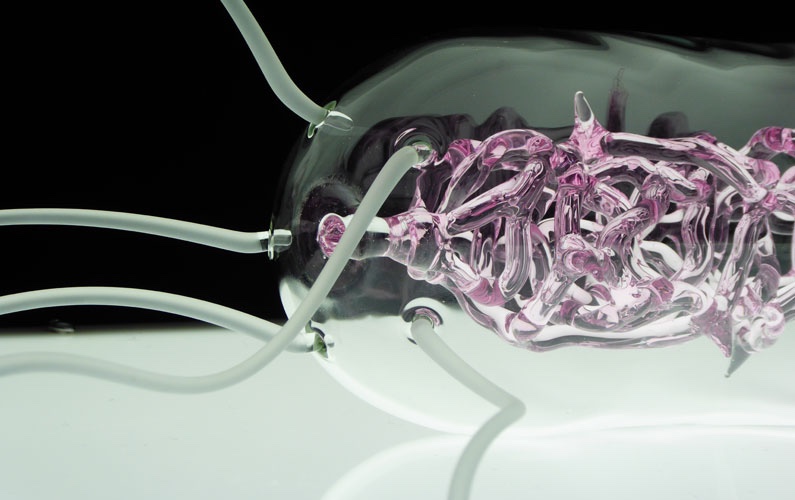 The scientific world seems to love these sculptures, which have been featured in textbooks and as the covers of prestigious journals such as Nature, the Lancet or the British Medical Journal. The glass microbes have also been exhibited to the public, where the artist reports that the reactions of people seeing the sculptures are often mixed, which is exactly his intention.
"The reactions to the work have been quite amazing. People are automatically attracted to things of beauty, but when they realize actually what they are there's the element of repulsion. People feel they might get infected when they touch them, which is quite nice."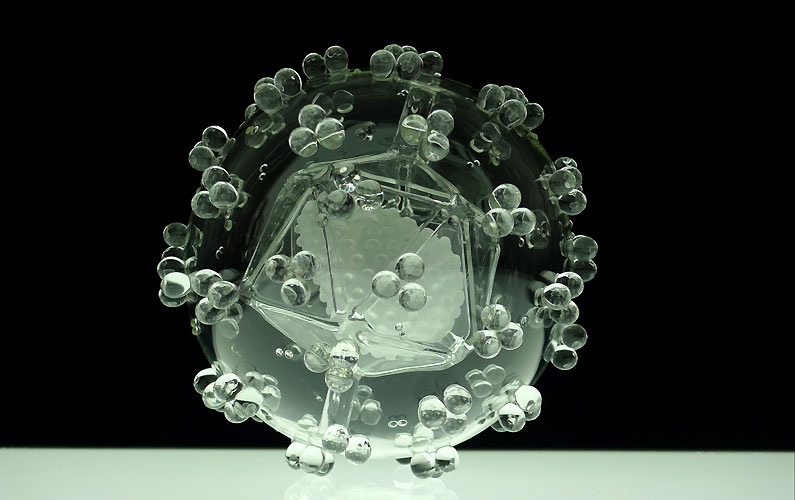 For those with a personal connection to the microbes represented, the reactions have been especially powerful. Jerram received an email from a person infected with HIV that read:
Dear Luke,
I just saw a photo of your glass sculpture of HIV.
I can't stop looking at it. Knowing that millions of those guys are in me, and will be a part of me for the rest of my life. Your sculpture, even as a photo, has made HIV much more real for me than any photo or illustration I've ever seen. It's a very odd feeling seeing my enemy, and the eventual likely cause of my death, and finding it so beautiful.
Thank you.
Some of Luke Jerram's pieces for Glass Microbiology are currently on exhibition at the Eden Project in Cornwall, UK, along with a giant inflatable version of its E. coli sculpture that hangs over one of the gardens of the exhibition space.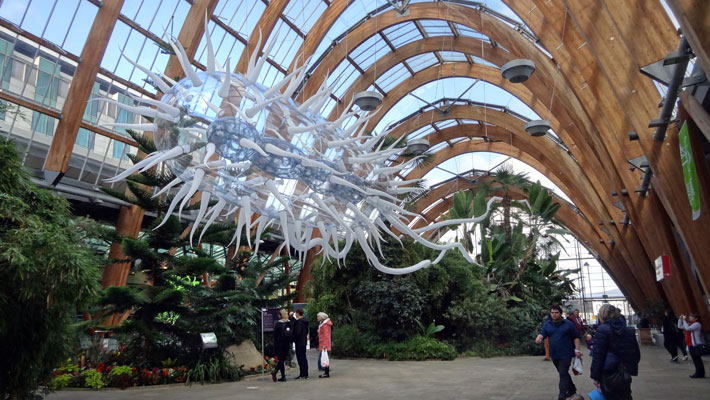 ---
All images via Luke Jerram