GSK and Avalon Ventures are having success with the Biotechs created under their collaboration. Sitari Pharmaceuticals and Silarus Therapeutics have achieved their first milestones, and there's a 8th Biotech in the making.

As part of its innovation hunting in the US, English big Pharma GSK had struck a collaboration with Avalon Ventures and formed an 'undercover incubator' of sorts.
This incubator is COI Pharmaceuticals, a 'venture-pharma entity' that provides R&D infrastructures and industry mentors to create new Biotechs.
Now, the collaboration is reaping some successes. The first two Biotechs created by the programme have reached their first milestones – establishing a plan to identify a clinical candidate.

The first is Sitari Pharmaceuticals, which is developing treatments for celiac disease. Its therapeutic approach targets Transglutaminase 2 (TG2), an enzyme that is thought to play an important role in this autoimmune disease.
The other is Silarus Therapeutics, which targets erythroferrone. This recently-discovered hormone regulates the iron supply in the body, and could be used to treat  iron deficiency and iron overload disorders.
In addition, it was announced the formation of a new company – the first after the expansion of the GSK-Avalon collaboration in 2015. The new Biotech will receive up to €9M ($10M) in Series A financing.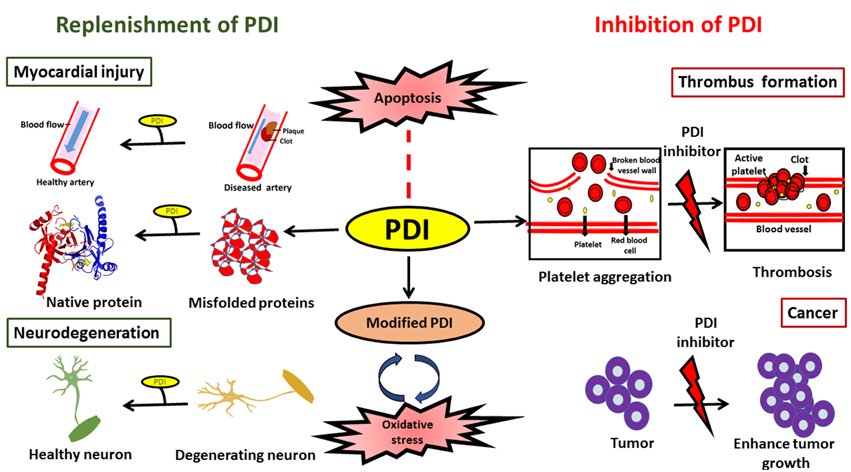 This new Biotech will be PDI Therapeutics, named after protein disulfide isomerase. When overexpressed, this enzyme can help tumor cells avoid detection by the immune system.
PDI will be developing antibody inhibitors for this specific protein, that could 'unmask' the tumor cells. These antibodies could be used as a stand-alone or as an add-on therapy.
As with the other Biotechs in incubation, GSK has the option to acquire each of the companies when a clinical candidate is identified.
This model of innovation looks a bit unusual, but seems to be getting results. Will it the supply the next batch of candidates for GSK's pipeline?
---
Figure 1 Credit: Parakh and Atkin (2015) Novel roles for protein disulphide isomerase in disease states: a double edged sword? Frontiers in Cell and Developmental Biology (doi: 10.3389/fcell.2015.00030)
---