How can and will Healthcare be disrupted? This is an important question addressed at an event on Differential Medicine at 'TheFamily' VC in Paris.


On the 3rd and 4th December, I attended the Differential Medicine conference in Paris at the 'The Family' HQ (an entrepreneurial VC). Here I give an overview of some of the key speakers at the event, who are themselves the future of disruptors in Healthcare…
Indeed, Healthcare is exposed to many problems that we need to change like efficiency and accountability in hospitals, long waiting times to see a doctor and conservatism in disease diagnosis – all of which are still a burden in Healthcare worldwide.
Digital and medical fields are far from each other and if were to summarise user experience of Healthcare? To be improved would be the answer.

---
Health will be driven by data…
Parkinson's disease affects 6.3 million people worldwide, causing weakness and tremors, but there's no objective way to detect it early on. As an applied mathematician and TED Fellow from Aston University (UK), Max Little is testing a simple, cheap tool that in trials is able to detect Parkinson's with 99 percent accuracy — in a 30-second phone call.
If we want to know more about Parkinson's disease, we need more data"
This is the basis of the health-tech company he founded, Parkinson Voice Initiative, which is a data-mining tool. Parkinson with more than 90% accuracy thanks to machine learning! The advantages are that you can stay home for tracking and it is extremely low cost.
The Parkinson's Voice Initiative aims to record 10,000 voices across the world…
---
…But also by Digital means

For example, Doctolib is French start-up which provides an online healthcare interface for Doctors and Patients seeking medical advice. For patients, Doctolib is a free online service to find a nearby health practitioner and book doctor or dentist appointments 24/24 and 7/7 within a few clicks. Stanislas Niox-Chateau, one of the founders and CEO of Doctolib commented:
"We already have 2 million monthly unique visitors"
On the other hand, for Doctors, Doctolib is a full-range service to improve bookings management, reduce 'no show' events and bring new patients to your office. Doctolib has grown very fast in two years since it began, with more than 6000 doctors converted. In addition, they have just raised €20M Series B round from Accel and Business Angels.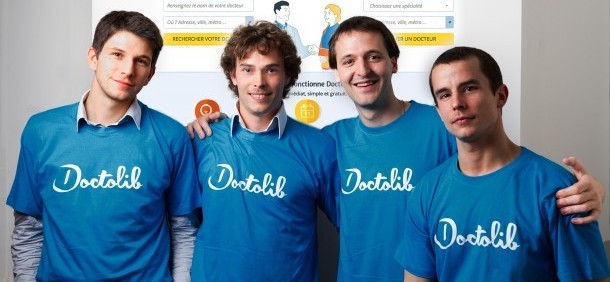 Then there is wearable tech…
Geoff Appleboom founder of Folup explained how the start-up wanted to explore the possibility of putting 'electronic tattoos trackers' on the heart. This biomimetic monitoring tech would be able to track and record data (e.g. an Electro-cardiogram) on your phone or watch.
The device itself is part of a smartphone service that allows patients to engage in their health and track their disease progression between doctors' visits – providing 'pathology specific patient-centric information'.
"Wearable technologies like smartwatches will Change Healthcare"
Folup has a range of impressive partners, including Samsung, Microsoft, the University of Liège (Belgium) and Columbia University (US).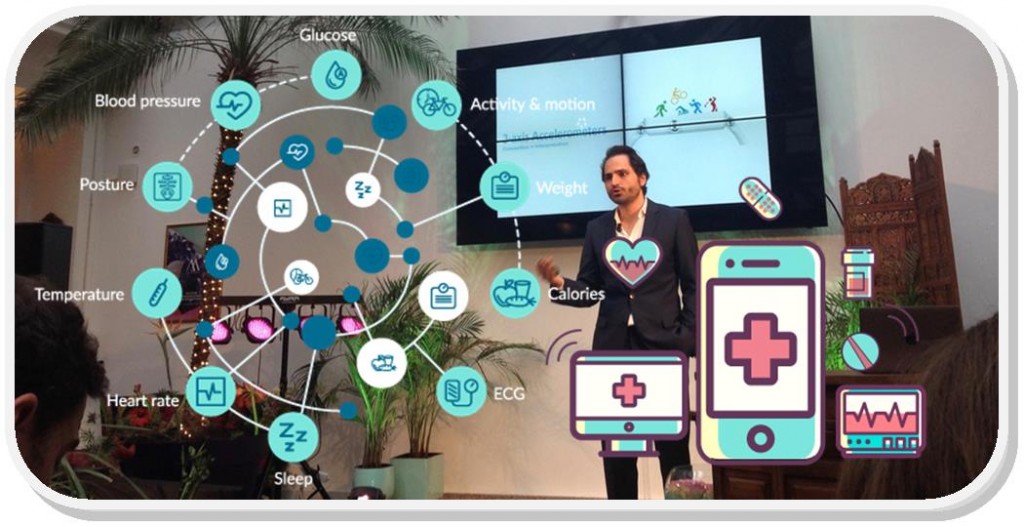 Smartwatches are also being explored for application in healthcare by other major businesses, including Medopad (UK) looking to develop a patient-doctor interface for recording symptoms and temperature monitoring during chemotherapy. There is also the hugely anticipated Google 'blood monitoring watch' (to non-invasively sample blood from the wrist) which the Silicon valley giant filed a patent for this week.
---
What about Disruptors in Biotech?

The use of software and remote tools (such as custom purchase of pcr materials online) is becoming more and more present in the biotech field. The start-up Transcriptic from Silicon Valley goes one step further and offers a robotic 'cloud laboratory' for the life sciences.
You can access a fully automated labs (dubbed 'Work Cells') and molecular biology equipment from the comfort of your web browser. Max Hodak, founder of Transcriptic, explained:
Transcriptic makes it possible for two postdocs with a laptop in a coffee shop to run a drug company without the need for millions of dollars in capital equipment or lab space"

---
A New Patient Oriented Era…
Omixy is the start-up that offers DNA tests by home-visiting nurses. These samples are then analyzed by Doctors and labs to examine your microbiome and an extended genetics panel, delivered as a report which offers an early-warning on certain diseases.
This type of 'mail order' personalized medicine is extremely appealing to the patient, where the doctor, referral and lab testing system can be very slow, full of bureaucracy (particularly in the UK) and frustrating. Lavinia Ionita, CEO of Omixy commented:
"Making a check up convenient and painless is important in Healthcare. We have to change the mindset that medicine only focuses on disease"
The startup just raised $1.5 million from SGH Capital with the help of TheFamily. It plans to launch during the second quarter of 2016 in London (read more on TechCrunch).
Surgery can even be 'Hacked'…
The amazing start-up Biomodex provides 3D printed surgical simulators for medical education and patient-specific preoperative planning,  seeing as they are superior to medical imaging due to their precision and hands-on-experience. Thomas Marchand, CEO of Biomodex explained:
"Surgeons can train for each patient, one day before the surgery"


Indeed, according to Biomodex, the tech will be able to decrease medical errors and surgery time by 30%. Read more about how Biomodex plans to reduce patient risk with this tech on 3D Experience Lab.
---
Evidently healthcare is already being disrupted because many startups, such as those mentioned, are on the right path. But be aware that the regulations on such disruptive technologies is still relatively restrictive in most countries, and it is difficult to convince many more conservative health institutions that these new approaches to modern healthcare are worth exploring against years of tradition…
Nonetheless, what we can witness here is a revolution in Healthcare!
I would like to thank theFamily for this awesome event, and we were very proud to be your partner for it!
---
Altered/Edited by Dani Bancroft. Feature Image Credit: 'TheFamily'