Akarna Therapeutics (US & UK) just raised $15M (€13M) in a series B round led by Forbion Partners – one of the leading VCs from Europe.


Also run by existing New York investors New Science Ventures and Third Point, the round purpose was to raise funding to develop a new drug for the liver disease Non-alcoholic steatohepatitis (NASH).
I had a chat with Marco Boorsma, a partner at Forbion (which is based in the Netherlands), to better understand why they did this investment and why now.


---
So, what's your feeling on NASH?
NASH should be a really big indication in the future (it already affects 30 million patients worldwide) and as such, a potential billion euro market. Essentially NASH is related to our Western-style of living and is closely linked to diabetes and obesity. And as both are growing in our western society, NASH should grow as well.
The most surprising in this disease is that there is no drug approved yet. The only 'treatment' available is exercising and leading a healthier life (Note: and stop going to McDonald's).

It's Crazy there is nothing out there yet. Which other Biotechs are working on this disease?
Right now, you have several Biotech companies working on this disease. The two most advanced are Genfit in France (which has a phase III candidate) and Intercept in the US, also in phase III trials.
Big Pharmas are also closely looking at NASH. Several pharma companies have their own in-house compound (for example: Gilead, Boehringer-Ingelheim and Novartis).
Intercept' stock recently went up 30% because of rumours of acquisition by large Pharma. Such an interest from Big Pharma also encouraged us to invest as it validates their interest in the space.
Author's note: Venture Capitalists usually invest for a limited period of time and are looking for exits (acquisition by Big Pharma or IPO) few years after their investment.
Most of the programs seem to be small molecules. What about biologicals?
Yes, most of them are small molecules for now even though there are a couple of monoclonal antibodies in development for NASH.
The reason behind it is that most of the targets are intracellular, making it easier to access with small molecules because of their size. Also, the production is easier and cheaper, and the oral administration is a big advantage.
But if an antibody and another type of biologicals could show significant results, the market could still be there.
Author's Note: There is also the Dublin based DS Biopharma (Ireland) which was granted an EU patent for lipid-based bioactive molecule technology for the disease in November.
And Akarna's Candidate?
Akarna's lead compound is an FXR agonist, similar to Intercept's drug, which is now in Phase III and also targeting FXR.
FXR has been a target of great interest to biotech and pharmaceutical companies over the past decade because of its role as a master regulator of carbohydrate and lipid metabolism, bile-acid homeostasis, inflammation and fibrosis – all of which are associated with the pathology and progression of NASH.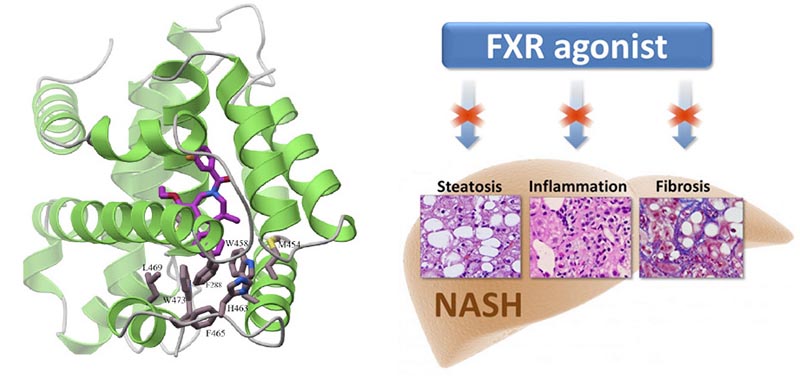 We believe Akarna's molecule may have a better profile and has the potential to the best-in-class compound targeting FXR.
So what was it exactly that drove you to invest there?
We invested in Akarna for 2 main reasons: the Chemistry and the team.
The team is incredible regarding their previous entrepreneurial successes in Biotech to include Dezima Pharma (excited €1.3Bn), Alexar Therapeutics, Exelixis, Xention Pharma, and Ario Pharma…

They are now turning to NASH and have extensive experience in chemistry and clinical development. Having raised a Series A round before (non-disclosed figure), they now have enough funding to move forward.
Indeed, they hope to have an IND by the end of this year and enter clinical trials soon thereafter.
---
NASH seems like the next gold rush. It's a trendy field which could become big – really big. Okay, maybe not as big as diabetes, but still a multi-billion euro field…
We should hear about this indication area more in the coming months and it was great to have this investor point-of-view to better understand what's going on right now.