Abivax's HIV cure candidate, ABX464, caused a significant drop in the viral reservoir over an extended period during a Phase IIa study.
Abivax targets the immune system to cure viral diseases. The company has announced initial results from the first cohort of patients in its most recent Phase IIa trial testing its potential HIV cure, ABX464. Initial results support the drug's ability to significantly reduce the HIV reservoir over a 28-day period. The next cohort of patients has commenced dosing for a 3-month study, with results expected in early 2018.
Human Immunodeficiency Virus (HIV) causes AIDS, a devastating disease of the immune system. The virus infects immune cells, impairs their function and puts the individual at risk of nasty infections and cancers. ABX464 combats this using a new mechanism to inhibit HIV replication, that it is hoped will not lead to resistance.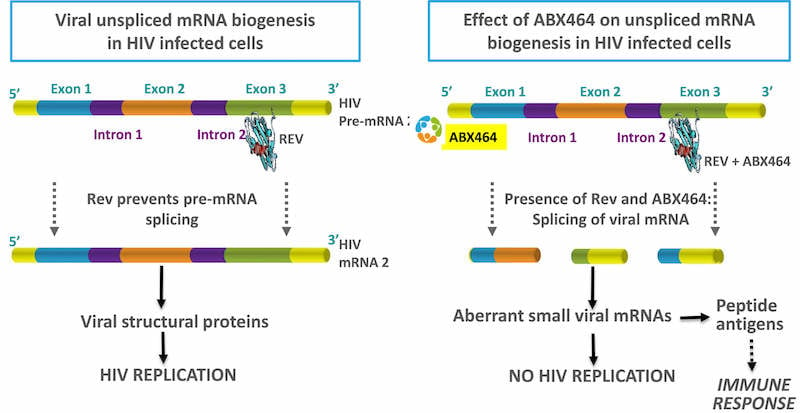 Nine out of eleven patients in first study cohort completed the study, and eight of these showed decreased viral load between days 0 and 28. Two patients did not complete the study due to adverse effects, but these were quickly resolved.
Abivax is happy with the results it has seen so far, but hopes for more data from the second cohort of patients to further support ABX464's potential: "In this first cohort, the rectal biopsies did not yield enough HIV DNA to make an assessment of the viral reservoir. For the ongoing second cohort, we have made changes to the procedures to ensure that enough high quality viral DNA is available…" Jean-Marc Steens, Chief Medical Officer of Abivax explained.
Abivax's news is one of a number exciting happenings in the HIV field this week, with Sanofi's 'super-antibody' and the EU approval of Janssen's Symtuza already announced.
---
Image – nito / shutterstock.com; Abivax
SaveSave