A new method of gene sequencing has brought us an HIV diagnostic on a "USB stick", which determines the levels of the virus with one drop of blood and in under 30 minutes. Once perfected, the technology could be the tool for HIV management as glucose meters are for diabetes.
While pharma and research work on various ambitious projects to deliver a true HIV cure by as early as 2020 and vaccines that could slow down the epidemic, the current anti-retroviral treatments have already come a long way. A positive diagnostic is now far from an immediate death sentence, and those treated can now have a normal life expectancy.
Researchers from Imperial College London and one of its spin-offs, DNA Electronics, have been developing an HIV diagnostic on a chip, that could enable fast viral load testing on the field, anywhere. The end product is a disposable test in a USB stick, requiring only one drop of blood and working with a regular computer.
This development will greatly benefit the 36.7 million people infected annually to manage their infections and thereby improve their prognoses. Each patient has to periodically monitor the amount of virus in the bloodstream to check if the treatment is working. The current tests of viral load require complex equipment in a lab setting and take at least 3 days. In some of the poorer areas with a very high number of HIV infections, such as sub-Saharan Africa, the test is not available at all.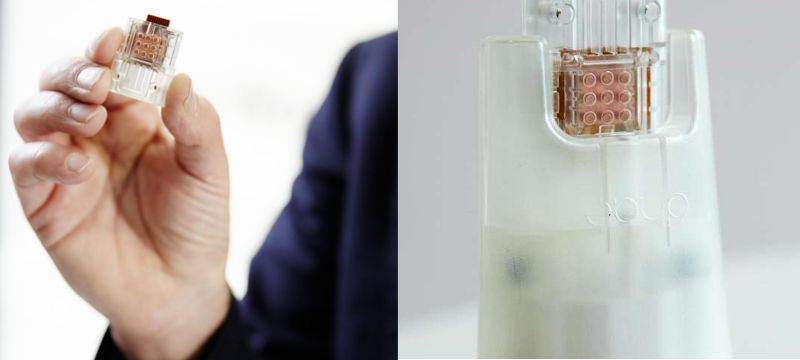 Results now published in Scientific Reports show promise for the technology. After testing 991 blood samples, the diagnostic reached a level of accuracy of 95% and average run time of 21 minutes. The underlying technology is the same that DNA Electronics is using to create diagnostics for bacterial and fungal sepsis and antibiotic resistance.
Dubbed Genalysis, it can perform a sort of gene sequencing in a standard semiconductor chip, providing an alternative to next-generation sequencing (NGS) for diagnostics. The test provides DNA fragments of a given bacteria or virus. If the blood sample is infected, the DNA will match and be amplified. These reactions lower the pH – something that's picked up by the chip and translated into a result.
This method represents the first time RNA has been used in any of its kind in any disease. The team is also looking into branching out to apply the technology to other viruses like hepatitis. Despite the existence of vaccines and effective treatments, hepatitis still has a very high death toll.
There is a growing interest in diagnostics, from novel ways to detect different types of cancer, to making more accessible devices for infectious diseases and deal with growing drug resistance. For the latter field, smaller and faster devices, like this USB stick and the hype pocket-NGS MinION, will play a big role.
---
Check DNA Electronics' explanation of their technology…
---
Images Credit: Imperial College London / DNA Electronics
---