ISA Pharmaceuticals will work together with Regeneron to combine its immunotherapy against cancer induced by HPV infection with its partner's PD-1 checkpoint inhibitor.
The human papillomavirus (HPV) is known for its ability to cause cancer, including cervical and head and neck cancer. Based in Leiden, the Netherlands, ISA Pharmaceuticals' target choice is type 16 HPV, which is known to be present 55% of cervical cancers and 60% of head and neck cancers. As of today, the company will count with the help of Regeneron — a successful US biotech with six drugs already in the market — to boost its immunotherapy's efficacy.
As part of the deal, Regeneron will provide an upfront payment and equity investment in ISA in exchange for an option to an exclusive global license to ISA Pharmaceuticals' lead candidate, ISA101. Both parties will share the costs of the clinical trials testing the combination of ISA101 with Regeneron's checkpoint inhibitor cemiplimab.
ISA101 is composed of 13 synthetic long peptides that match parts of two oncogenic proteins produced by HPV16. Unlike prophylactic vaccines for HPV16 already on the market, ISA's HPV cancer vaccine has the potential to help the immune system fight the virus after the patient is infected. ISA101 is already being tested in Phase II trials for cervical, head and neck, anal and vulvar cancer.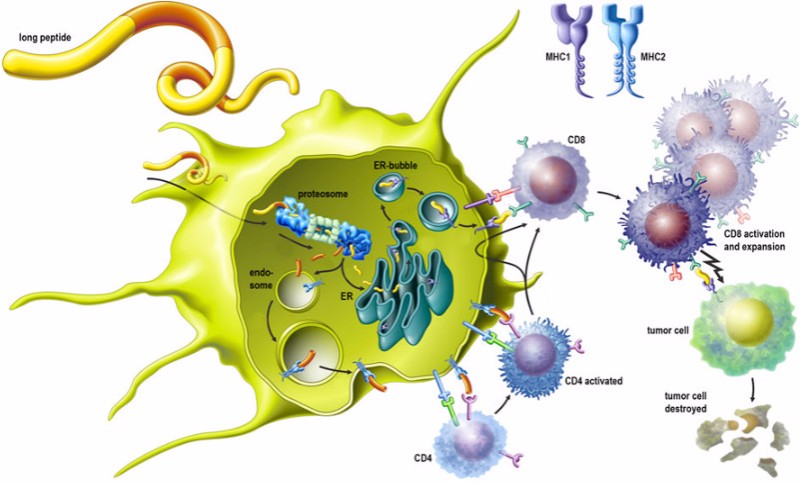 Combining ISA101 with Regeneron's cemiplimab could give the HPV cancer vaccine a boost in its efficacy. Cemiplimab is a checkpoint inhibitor that prevents the PD-1 receptor present in T cells from binding PD-L1, a protein cancer cells express to evade attacks from the immune system. By removing these "brakes" of the immune system, the attack against HPV16 viruses causing cancer could be stronger.
Checkpoint inhibitors against PD-1 and PD-L1 have created big expectations; all big pharma have their own on the market and there are over 1,100 trials testing them in combination with other cancer therapies. ISA Pharmaceuticals and Regeneron will have to prove that their particular combination is effective in a field where experts point out that many studies seem to be driven by hype rather than a robust and sound scientific rationale.
---
Images via Tatiana Shepeleva /Shutterstock; ISA Pharmaceuticals