Immatics has completed a $58M (€50M) round with the participation of Amgen, not long after both companies signed a billion-dollar partnership.
Immatics, a company based in Tübingen specialized in cancer immunotherapy, has announced that its Series E round has reached $58M (€50M). Existing investors including dievini Hopp Biotech, Wellington Partners, and AT Impf took part in the fundraising, which welcomed the addition of biotech giant Amgen.
The German biotech plans to use the funds to complete the first clinical trials with IMA101 and IMA201, the lead candidates from its two main technology platforms, and to continue early research activities for new and existing programs.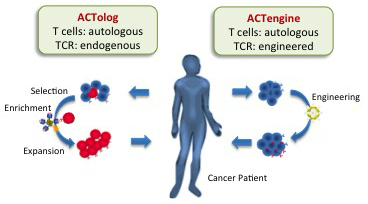 Immatics' IMA101, developed using the ACTolog platform, uses the patient's own T cells to attack the tumor after isolating and growing those that attack up to four tumor biomarkers specific to the patient before reinfusing them. IMA201, created with the ACTengine platform, follows a similar procedure, with the key difference that the T cells are genetically engineered to express a T-cell receptor (TCR) against a specific biomarker found in the tumor.
Amgen must be confident in the potential of this technology given its participation in the fundraising, following a partnership between both companies signed earlier this year for the joint development of cancer antibodies. Amgen offered over €1Bn in milestones in exchange for accessing tumoral targets discovered using Immatics' XPRESIDENT platform, which is behind the targets of the ACTolog and ACTengine technologies. Unlike
Unlike classical antibodies and CAR-T therapy, Immatics' technology is not restricted to targeting antigens located on the surface of tumoral cells, unlocking intracellular targets that amount for 75-80% of all cancer antigens. This could give a big competitive advantage to Immatics and its partners, which include Roche and MorphoSys besides Amgen, in the crowded space of cancer immunotherapies.
---
Images via boonchoke /Shutterstock; Immatics