Immunocore has singled out a new lead candidate in its immuno-oncology discovery program with GSK, triggering an undisclosed milestone payment to Immunocore.
Based in Oxford, Immunocore is one of the hottest biotechs in the immuno-oncology space, which was able to raise one of the largest European private funding rounds ever (€300M) and is backed by several big pharma partners including Genentech and GlaxoSmithKline (GSK). Now, the British biotech has added a second lead compound to its discovery collaboration agreement with GSK, securing itself a new milestone payment.
The two partners initiated their collaboration back in 2013 and GSK agreed to pay Immunocore a massive total of £142M (€170M) in potential pre-clinical milestone payments, adding up to £200M (€240M) in milestones — and double digit royalties — for each new therapy that makes it to the market. The pharma giant seems to be intrigued by Immunocore's ImmTAC technology, which links a T cell receptor (TCR) with an anti-CD3 antibody to flag the cancer cells for T cell-mediated killing.
In contrast to CAR T cells, the TCRs are able to recognize intracellular tumor antigens that are presented on the surface of the tumor cells, allowing for access to a much wider variety of targets. The anti-CD3 effector domain of the ImmTAC is able to bind and efficiently activate the T cell to kill the cancer cells bound by the TCR.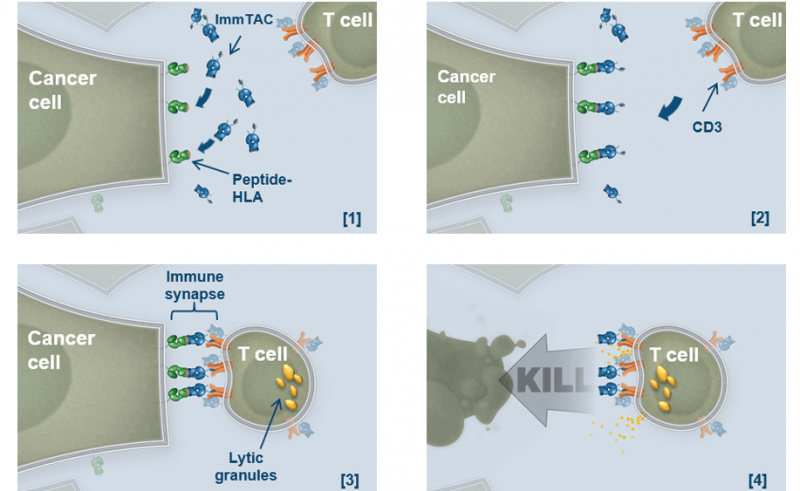 According to Immunocore, the new ImmTAC candidate is relevant in a number of solid cancers including triple negative breast cancers, oesophageal, gastric and ovarian cancers, expanding the indications the company's technology.
The first ImmTAC program under Immunocore's GSK collaboration is on track to be submitted as an IND this year and will enter Phase I clinical studies during early 2018, with potential application in Non-Small Cell Lung Cancer (NSCLC), bladder cancer, synovial sarcoma, melanoma and ovarian cancer.
While the immuno-oncology space could not be more crowded right now, both investors and big pharma seem to be confident that Immunocore's innovative technology bears high potential to tackle the challenging solid tumors.
For all that, the company's pipeline is still in early stages and more clinical data is necessary to tell whether the technology will be able to beat the revolutionary adoptive T cell therapies developed by players like Novartis or Juno that are racing to enter the market soon.
Images via shutterstock.com /  CI Photos and Immunocore.com