Immunocore Limited, just announced that it has secured a £205 million financing (€293 m) from private investors to push forward its T cell receptor (TCR) based biological drugs to treat cancer, viral infections and autoimmune diseases. This substantial amount of cash not only embodies the largest private investment ever made in Europe by a biotech company, but also the second largest worldwide after Moderna Therapeutics's record achievement. 
Immunocore's technology has everything to seduce investors. The age of monoclonal antibodies has passed, and Biotech companies are now looking for new technologies that combine the power of targeted therapies without resistance induced by monoclonal antibodies. Where other companies decided to develop CAR-T technologies, using boosted T cells, Immunocore went outside the box, and opted for another strategy using T cell receptors.
ImmTAC, Immunocore's technology, is a new class of bi-specific biologic reagents that combine an affinity-enhanced T cell receptor (TCR)-based targeting system with an anti-CD3 effector function to specifically activate T cell responses to recognise and destroy cancer cells.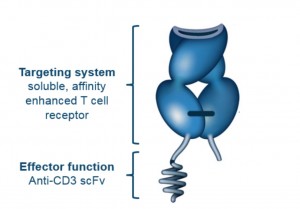 Once ImmTAC has bond to cancer cells, circulating T cells are recruited to the tumour site by interacting with the free end of the ImmTAC molecule (the anti-CD3 antibody fragment). ImmTAC acts as a bridging molecule between the cancer cell and the T cell, enabling the formation of a perfectly optimised immune synapse. The redirected T cell is then activated, and releases its load of cancer cell killing lytic granules, leading to eradication of the cancer!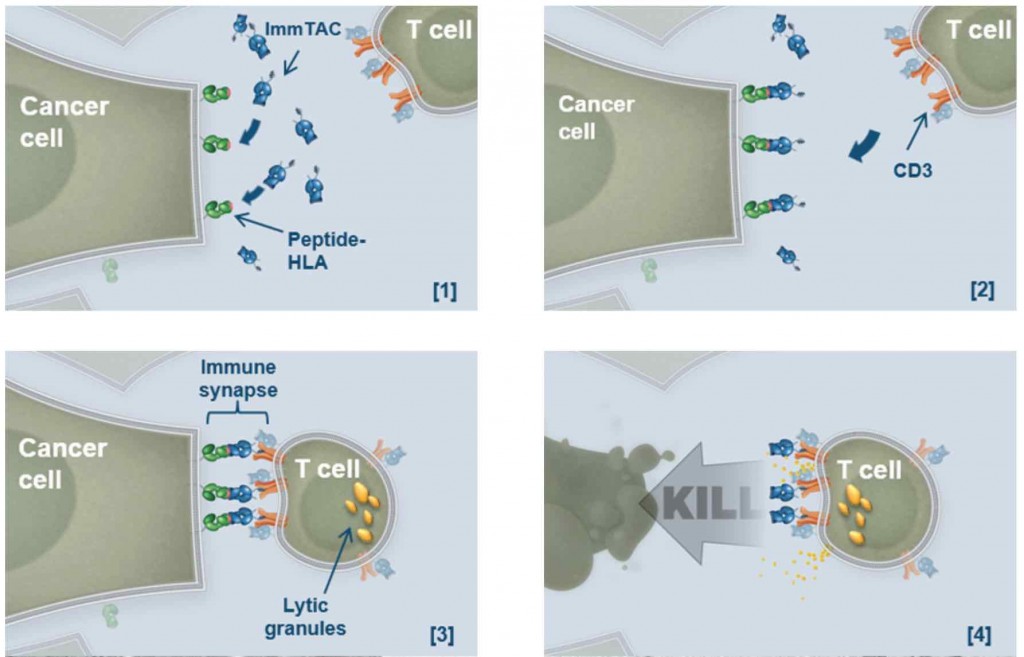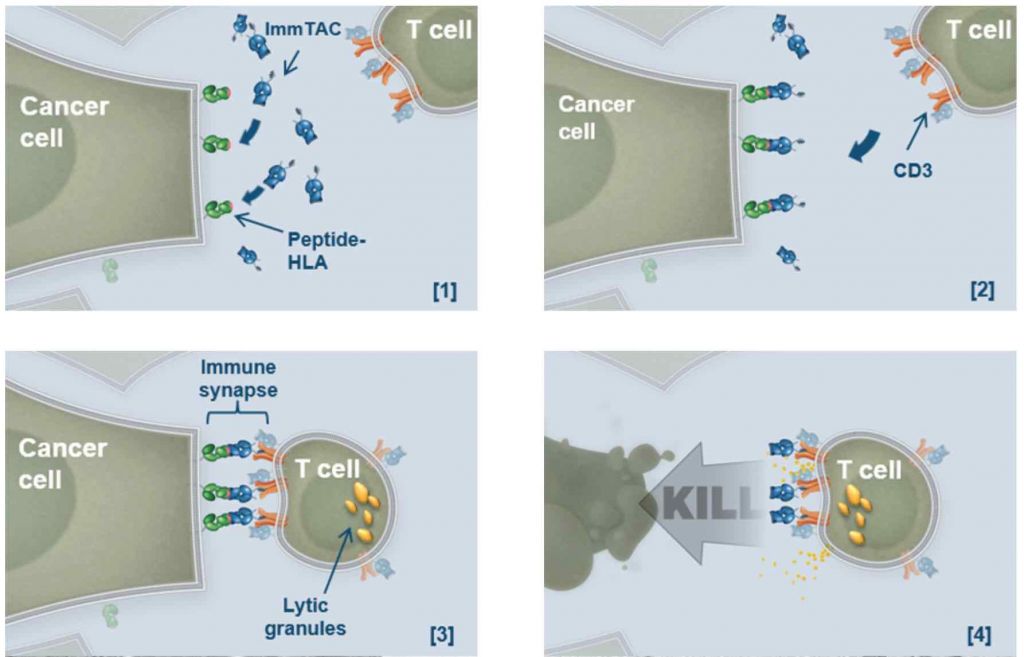 This technology has just attracted quite a few first-class investors, such as Woodford Investment Management – managed by one of the most influential person in the Biotech industry, Neil Woodford –  Malin Corporation plc, Eli Lilly and Company and RTW Investments, as well as a number of new and existing investors in Immunocore.
The funds will enable Immunocore to further accelerate ImmTACs' pipeline. In addition to delivering  its well-established partners, namely MedImmune, Eli Lilly, Genentech or GSK, on time, Immunocore will focus, on progressing its lead proprietary programme, IMCgp100, which produced positive Phase I/IIa trial data in April 2015 in patients with advanced metastatic cutaneous and ocular melanoma.
IMCgp100's clinical data demonstrated an excellent safety profile with objective clinical responses achieved in cutaneous and ocular melanoma in patients refractory to ipilimumab and pembrolizumab, the standard monoclonal antibodies currently available. Investigators of the study even recorded one complete response, which lasted 4.7 months and three partial responses of a duration of 5.9 to 18+ months.
Dr. Eliot Forster, Chief Executive Officer of Immunocore, commented on the financing round:
" This supports us in our mission to build a premier biotech company based on our ImmTAC technology platform."
This new record clearly shows the momentum around immuno-oncology companies. For a few months now, Biotech companies from Europe and the US are setting fire to the market place with huge deals and fundraisings. Just to give you an example to this last statement, Adaptimmune, another UK-based company, raised a  €156.7 million IPO on the NASDAQ to develop a technology comparable to Immunocore's ImmTAC. The race, therefore, is just starting and challengers are attracting money like magnets, let's just hope that the promised results will be delivered on time to improve the life of patients.