Intarcia will develop a drug delivery device for HIV prevention that can significantly reduce dosing frequency, backed by a €134M ($140M) deal with the Bill & Melinda Gates Foundation.
Intarcia is a biotech unicorn from the US with an innovative drug delivery system that has managed to attract €197M ($206M) in Series EE, including €48M ($50M) from the Bill & Melinda Gates Foundation, which is offering an additional €86M ($90M) in milestones for the development a prophylactic HIV therapy.
Intarcia's Medici Drug Delivery System is an osmotic pump the size of a match that steadily releases the drug within and just requires subdermal implantation once or twice a year. The system includes a stabilization technology to maintain therapeutic biologicals stable for up to three years.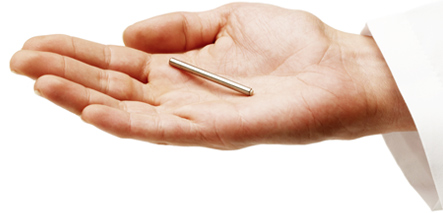 The new HIV program aims at improving HIV pre-exposure prophylaxis (PrEP), which can reduce the risk of HIV infection by up to 92% in high-risk populations. These treatments require daily dosing for effective prevention, which can be hard to ensure in places like Sub-Saharan Africa, currently the most affected region. With a delivery system that only requires once- or twice-yearly dosing, Intarcia has the potential to give a strong blow to HIV.
Intarcia's technology has already proved its potential with ITCA 650, a treatment for type 2 diabetes that replaces twice-daily GLP-1 receptor agonist injections with a six-month continuous delivery system. The program managed to attract a collaboration with Numab, a Swiss biotech specializing in therapeutic antibodies, and a billion dollar deal with the French Servier for applications in diabetes. ITCA 650 successfully completed Phase III last year and is currently waiting for FDA approval to be launched in the US.
Rather than creating new drugs, Intarcia relies on taking already existing therapies and improving delivery. The Medici system is a great example of how effective drug delivery is as much an essential part of medicine as functional drugs. While an HIV cure is still under development, could a successful prophylaxis be the key to eradication for the virus?
---
Images from Illustration Forest/Shutterstock and Intarcia
---