Orthobiology is a field of biomedical technology, which develops new devices and products for skeletal regenerative medicine. IBI sa (Industrie Biomediche Insubri sa) is a Swiss-based company excelling in this field. I met Giuseppe Perale, co-founder and President of the company, who not only gave me the big picture on this field, but also on SmartBone, the technology developed by IBI.
Can you present yourself and your company IBI?
I'm Giuseppe Perale, President of the Board of Directors and co-founder of IBI. In 2007, I started working on what would have become IBI's technology during my postDoc period at Imperial College London, with the current CEO of the company and co-founder, Gianni Pertici, who was finishing his PhD course at the King's College. In 2008, we had already imagined and designed 3 different products and in 2012 we raised money and set up the company to develop theses products and put them on the market. We had developed our product called SmartBone, an innovative bone graft for bone reconstructive surgery.
How does it work?
SmartBone is a technology which uses regenerative medicine to replace the damaged bone and then heal it. We're producing it via the combination of a bovine bone matrix (basically cancellous bones), a biodegradable polymer and specific cell nutrients. All these components are already certified for medicine use. The difference with existing technologies is that we simply combined them in a smart way.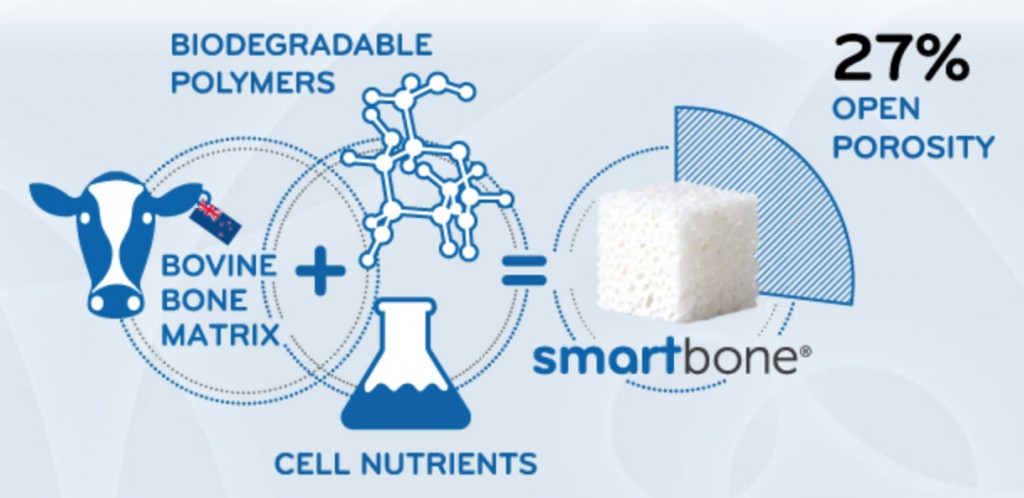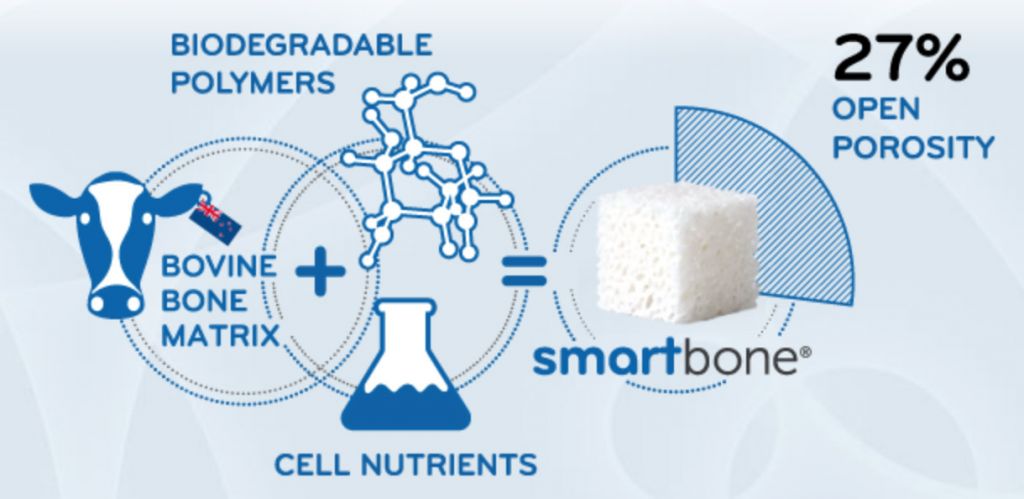 How does this biomaterial react once placed in the body of the patient?
Once it is fixed to the bone defect site, by the surgeon, the "magic" of our technology starts: the cell nutrients we're using are immobilized biomolecules possessing the RGD-sequence (Arg-Gly-Asp), which promotes cell adhesion and hence sparkles the formation of a new bone. That's why our bone graft is extremely biocompatible. The goal of bone tissue engineering is to have a composite with surface and microstructural attributes that promote good cell adhesion and vascularization. In other words, this means having the necessary transport channels for good cell activity, the right three-dimensional network to serve as a substitute for bone under both static and dynamic, weight-bearing conditions, and be resorbed at an appropriate rate, neither too quickly nor too slowly. Today SmartBone has reached that goal!
So if I get it, your technology is your competitive advantage?
Yes it's one of our competitive advantages. If you compare our technology with the microstructure of our top competing products, you'll clearly see the difference (see figure below).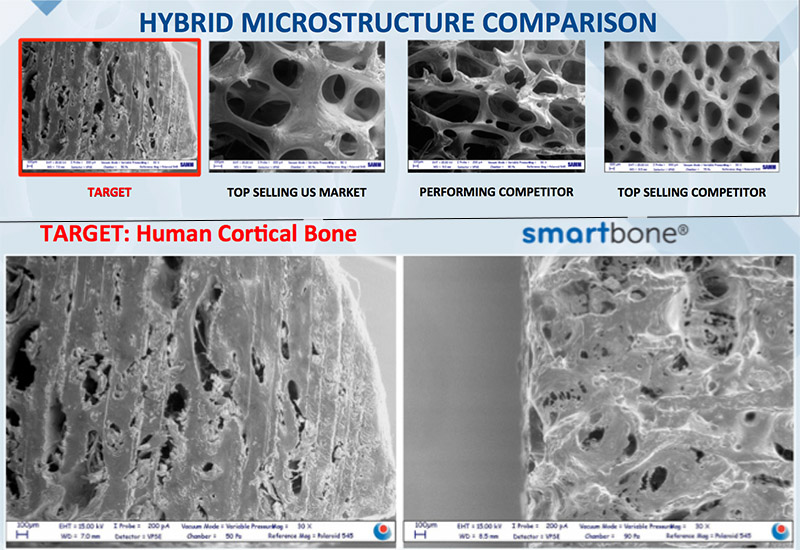 Our second advantage resides in our wide range of application. We possess the only bone graft capable of replacing the widest range of bone defects in the human body (with the exception of paediatric application where nobody has yet the authorisation, but we are tightly working on!). SmartBone can regenerate and integrate the patient's body. In 6 to 18 months, it's completely substituted with real bone, thanks to our biodegradable polymers, that fade away progressively being resorbed, and the underlying mineral structure, which mimics the human healthy one. Surgeons can't distinguish the difference with real bone after 2 years from SmartBone grafting!
We also benefit from a further advantage thanks to our skilled team of experts. We developed and put this technology on the market with less then a third of the investment our competitors usually make. That makes our investors extremely happy!
(editor note: among them is the AGIRE Foundation, leading institutionalized investor of the Swiss Canton Ticino).
Let's talk about your market and your competitors. Who are they?
The global orthobiologics market was valued at $4.8 billion in 2010, and hopes to reach $7.6 billion by 2017 (source Global data, UK, 2012). Bone substitutes, such as SmartBone are forecasted to be thefastest growing segment in the orthobiologics market: their global market was valued at $1.9 billion in 2010 and is expected to reach $3.3 billion by 2017.The global orthobiologics market is dominated by Medtronic, Genzyme and Depuy. Together, they amounted for nearly 40% of the total market in 2009. Medtronic is the market leader, with a 19% share in 2009. Medtronic's InFUSE bone graft was its major revenue generator in the orthobiologics market. Genzyme was the second largest company, with a market share of 11%, followed by Depuy with 10%.
The market leaders are using approaches and technologies different from ours. Our direct competitors are for example Geistlich Biomaterials, making a product called BioOss (66% of the worldwide dental market): it's a 30 year old technology, and recently the company had a lot of problems with new products called back from the market. We also have other competitors and this market is very active, with a wide number of small players, selling the so-called "me-too" products, hence poor in innovation.
What's the next step for IBI?
Consolidate the market and expand new clinical research activities, for example in oncology and paediatric reconstructive surgery, there where the foremost advanced frontiers of bone regenerations are still considered out of reach. Then, bigger companies who want SmartBone in their product portfolio can buy our indications.